How to choose your inflatable Stand Up Paddle?
Accessible to all,
Stand-Up Paddle
is an excellent way to get away from it all and go on an adventure. Combining physical activity and escape, SUP, like cycling, is divided into several disciplines. Whether you prefer a family outing, a sporty outing (or a paddle race), a SUP duo or even surfing, there is a paddle adapted to each of these practices. With so many different types of paddling, you need to know how to choose the right Stand Up Paddle model for you. At SROKA we are above all a team of enthusiasts. We have been developing our own range of Stand-Up Paddles since 2013. It is by working hard that we manage to develop one of the best products on the market so that you can have maximum pleasure in the water. Being concerned about our environmental impact, we make it a point to develop paddles with a maximized lifespan that will limit the use of new resources. To practice SUP in complete safety and with the appropriate and quality equipment is essential. This is why we have chosen to offer different ranges of boards. In this way, everyone can find what they need and what they want.
Choose your SUP according to your level and size
BEGINNERS
For beginners, a
wider board is better for stability
. The wider the paddle, the more stable it is. Our
Malibu
range is perfect for beginners. Depending on your size, the size of the board will be longer or shorter. For the Malibu, prefer the 10′ for those under 90kg and the 10'6 for those over 90kg or those looking for great stability.
CONFIRMED
As you progress and feel more comfortable, you can choose a narrower board for more responsiveness and glide. For touring or sporty rides, a narrower SUP board allows for better glide because of the reduced friction zones on the water. This is the case with the Alpha range, the Easy 11'6 and 12'6 or the Girly.
Choose your stand-up paddle according to the spot
.
CALM WATER
If you are sailing in calm water (lakes, ponds), a narrower and thinner Stand-Up Paddle can be considered for beginners. If you wish to have a more cardio and speedy practice you can turn to a model with a pointed nose (Alpha or Easy 11'6 and 12'6) which will combine stability, speed and performance.
ROUGH WATER
For rough waters (seas, oceans, rivers) boards that are a little wider will give you more stability and improve your balance. This is the case with Easy and Malibus for example.
SUP Malibu: the perfect range for beginners
The
Malibu
range of inflatable stand up paddle boards are a perfect compromise for beginners and advanced paddlers. These boards are perfect for beginners and families. Ultra versatile, the Malibu is perfect for hiking, surfing and yoga. Their versatility also ensures that they have plenty of room for improvement! These are top of the range products from SROKA. The Malibu boards are very durable and we equip many clubs and water sports centres with this professional range. Malibu boards have a reinforced construction. They have three layers of PVC on the rails and two layers fused together on the top and bottom of the paddle.
In the same vein, we have the
Girly
range. These are high-performance models with a refined design. In this range we find the Malibu Girly 10′ model which is similar to the classic Malibu 10′ but in a version adapted for female sizes. If you want a faster paddle, the Girly 11'6 and 12'6 have a slimmer nose which allows you to glide more easily and cover more distance with less effort. Suitable for beginners, the design of the Girly makes it a unique board that allows you to combine fun, sport and aesthetics.
Choosing your paddle according to your needs
Paddles for hiking or performance
For long-distance rides, choose boards with a pointed nose. They allow you to split the water and cover more distance with less effort. For this purpose, we have created the
Easy 11'6×32 and the Easy 12'6×32 inflatable paddle.
These SUPs have a pleasant glide with great stability. Faster than the Easy 10′, these two models are suitable for beginners and advanced paddlers, but also if you want to go hiking at an attractive price. If you are a beginner or if you want to go for long rides, you should choose the Easy 11'6. It will give you more comfort and handling than the Easy 12'6. These models are sold like all Easy models in complete packs with manual pump, aluminium paddle, leash, fin and carry bag.
If you're looking for a high-end board for touring, cardio and performance, look to the
Alpha
range. This range combines speed and stiffness. It's a great compromise for those who want a board that performs well, is durable, has a great glide and delivers great speed performance. It comes with a top of the range rolling bag, so you can easily take it to all your favourite spots.
Looking for speed
? The longer the Stand Up Paddle board, the more the board glides with a minimum of effort. The SUP will keep a constant and straight trajectory.
The Alpha 12'6×31
and
Easy 12'6×32
are the perfect options for anyone looking for glide, performance and stability.
Both paddles are built with the same material base, i.e. PVC used on RIBs, which are high-end materials, compared to some brands that use truck tarpaulin PVC. The Alpha 12'6×31 and the Easy 12'6×32 are touring boards, both of which will give you a great feeling. If you want to go on
sporty rides
, the Aplha 12'6 will offer you a
better glide
because it is less wide. The Easy 12'6 is wider, so you will have
better stability.
In short, the wider the SUP, the more stable it is and the less it will slide. The Alpha 12'6×28 will be even faster, but a little less stable because it is narrower. It will be more suitable for more experienced people. With three layers on the rails compared to two for the Easy, the Aplha is
more
resistant
. It will also be
more
durable
over time due to the
fusion technology
with which it is constructed. The Easy is ideal for a first time buyer. Made from
high quality materials
like the Aplha, it is excellent
value for money
, but will still be less rigid than the Alpha range.
Inflatable SUP for stand-up paddle race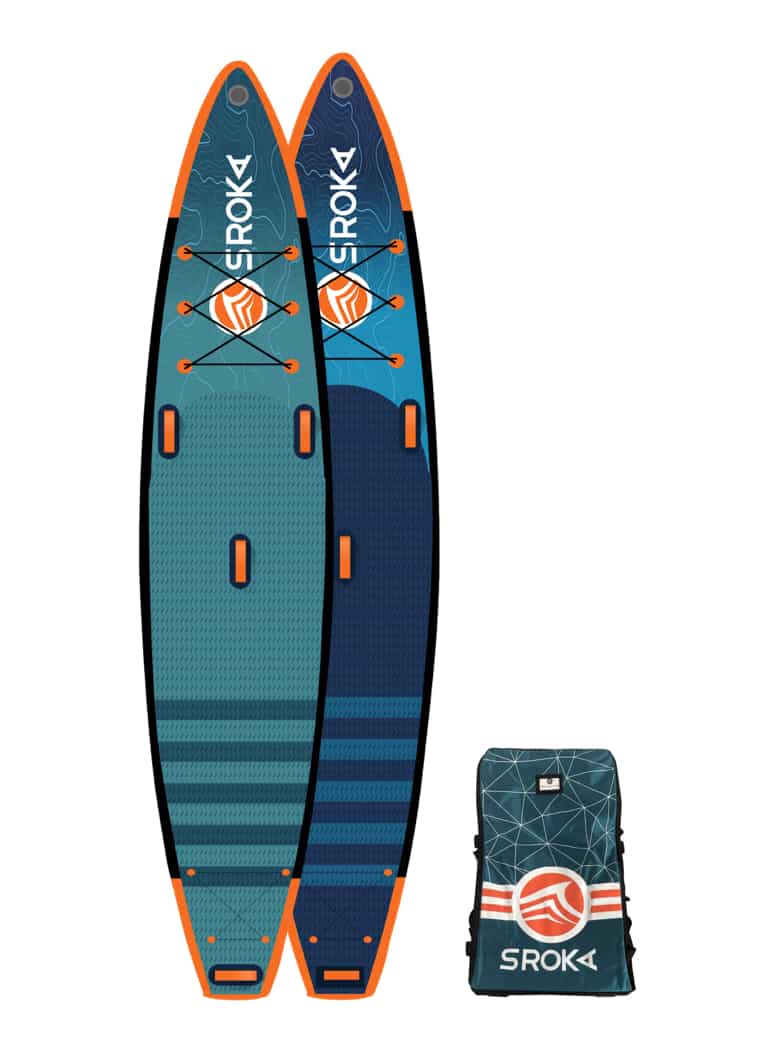 Stand Up Paddle racing is the most physical discipline in SUP. It's all about speed, endurance and technique. The ideal boards for Stand Up Paddle racing have a long, thin outline with a pointed bow nose to optimise glide and cut through the water with minimal friction and a thinner tail to reduce drag.
The Stand-Up Paddle race can be broken down into three categories:
Flatwater: A discipline combining endurance, cardio, power and technique. The principle of the race is to complete courses of different distances (linear or loop) on a flat water surface, ranging from 3 km to over 50 km.
Downwind: This is a sport that combines endurance, gliding and marine sense. The principle is to complete a course from point A to point B. The course is done in the direction of the wind and waves to surf on the swell with your paddle.
The Beach Race: The race is proposed with a beach start, board in hand, where the racers drive through sections in the waves and others on land. It is an often short and intense format that is around 5 km long.
Long distances.
If you're looking for maximum glide and efficiency, opt for the
Alpha 12'6×28 and 14'x27″ boards
. Because of their shape designed to combine speed and glide, these boards offer optimal performance in competition. They are relatively narrow and will therefore give you phenomenal glide. With these boards there are no excuses, the material will not be a problem. Only your technical level will make the difference!
Paddle surfing is about catching waves, using the paddle as a motor and a fulcrum. To do this you need a
board that is rounder than a traditional paddle in order to ride the wave with ease.
At SROKA we have designed the
ideal SUP board for surfing
, the
Waves 9'5 Fusion
inflatable paddle. Easy to carry, this Stand-Up Paddle will allow you to go from riding to surfing with ease. Indeed, the SUP Waves is primarily adapted for waves but
you can also make nice rides with it.
Relatively short and with a round outline, the Waves 9'5 will allow you to make nice curves on the waves. With a reduced thickness for a better contact with the wave, this board adapts to all levels of practice. Finally, the
grip pad
makes surfing easier and more fluid.
Very stable and practical, the DUO Easy will allow you to share unique moments on the water in complete safety. This 15'9″ (457 cm) board has two bungee cords, one in the front and one in the back, so you can carry your stuff as you wish. Its raised nose will get you through the choppy water effortlessly. Built with quality materials, the Easy DUO board can support up to 220kg and has an inimitable durability.
Lighter and stiffer, the SUP DUO is designed to give you good stability with excellent glide. As stable as the Easy DUO, the DUO is stiffer and therefore faster thanks to its design, which has been studied to make it more efficient. In fact, the SUP DUO is made with the best Dropstich (layering technique) and PVC on the market, to ensure that you get a similar feeling to a rigid paddle. With its 16 feet length (487 cm) and its high rigidity, it supports up to 320 kg.
For those who don't want to limit themselves to two people, SROKA has giant inflatable paddles for up to eight people. If you want to have fun with two or even six people, the
SUP Giant XL
is for you. Want to be even more? The
Giant SUP XXL
allows eight people to share moments on the water.
Join us on social networks!