Do you dream of flying over the swell with a paddle? SUPFoil is a discipline that will allow you to enjoy the first sensations of Foil. Indeed, if you have a good knowledge of Stand-Up Paddle and you want to start foiling, we advise you to start with the SUP-Foil. This will help you to start discovering the foil, to understand and analyse how it works. You will quickly feel the incredible sensation of gliding and The speed that this water sport provides. The feeling of freedom and escape as you fly over the water. This will give you the opportunity to experience SupFoil downwind for dozens of kilometres,with only the sound of the wind,is just exceptional. Here are our tips for choosing your SUP Foil.
SUPFoiling is the practice of flying with a Stand-Up-Paddle board mounted on a Foil, and using a paddle to gain speed to take off. The volume of the board allows you to start directly standing up while rowing with the paddle to catch a wave.

How to start SupFoil?

First of all, starting out in foil requires a minimum of technique and control. This is why it is advisable to start foiling in SUPFoiling. Indeed, the paddle board is larger and more stable than a Kitefoil or Surffoil board. Although this practice is accessible to all, we advise to have a good base in SUPsurfing. It is complicated to start directly with a foil. This practice requires a lot of accuracy, especially in the positioning of the centre of gravity. Moreover, it can be dangerous if the right actions are not taken.
If you want to start alone, we advise you to choose very soft waves with little power. Also avoid crowded surf spots to avoid conflicts on the water. Ideally, it is worth taking courses to learn how to practiceespecially to get over the apprehension of falling on the kite and to understand how to master the height of flight. For more information, we have taken the time to give you all our advice on how to choose the right sport when starting out in SUPFoiling in this article.

How to choose your Sup Foil pack?

SUPFoiling offers many advantages, not least of which is the fact that you can have a blast in a wide range of conditions, even with 50cm waves. Downwind is even faster with this practice. It is also a complete and interesting sport for the cardio: with mastery, you go up to the peak while pumping, you take the waves, then you go up while pumping, ad infinitum!
Looking for the perfect SUPFoil for your needs? SROKA Company gives you all its advice in this article. Our goal: to democratize the practice, by designing equipment that we enjoy using ourselves, all at an affordable price. (while building the boards in France)

All the answers to the questions you may have when choosing your foil!

How does a Foil work?
The functioning of a Foil is comparable to that of a underwater aircraft" thanks to fluid dynamics. The speed of travel creates a lift force on the front wing and allows the foil to take off. The higher the foil speed, the more the foil will be "pulled" upwards. Therefore, you have to put more pressure on the front leg, or decrease the size of the front fin. The rear fin, also known as the "stabiliser", balances the lift of the front fin. Be aware that your weight (centre of gravity) will act as a balancer between these two fins.
If you want to know more about how a foil works, we refer you to our article "How does a surf foil work? ".
COMPOSITION OF A FOIL
The Foil is composed of a mast, attached perpendicular to the plank and fuselage and two front and rear wings. The front fin is the largest, with a domed top, with a rounded leading edge, which quickly thickens, then tapers to a thinner trailing edge. At the rear is the stabiliser, which is similar in shape to the front fin (but inverted), with a reduced surface area and a different profile. The size of the stabiliser determines the handling and speed of your foil.
How to choose your foil?
In SUPFoil practice, a Low Aspect front wingwill run very fast, but will be slower and less efficient than an Aspect Medium. Indeed, the latter will offer you the advantages of a fast spinning foil, while being very forgiving and forgiving of all mistakes. As for the High Aspect models, these can be interesting, as they are more efficient at pumping.
Front wing :
A classic SROKA S Foil Classic (Mid Aspect) wing will be accessible for all levels and very versatile. Beginners looking for lift and stability should go for the 1750 (XL) or 1500 (L). These two fins will allow you to sail as well in SUP Foil, Wake Foil or Wingfoil. It is suitable for people in the 80kg range. The 1250 (M) will be faster and more manageable due to its smaller size.
A High Aspect wing will give you performance, but will require a little more technique. For those who want to take their SUP foiling to the next level, the HA 1190 L (Lift) will provide lift and ease of gliding.
As for the stabiliser, the S-Foil stabiliser is the best compromise between handling and stability. We are working to bring you a wider range of products to make your foil more playful. (Available during 2021)
Would you like to know everything about the differences between a High Aspect and Low Aspect foil? Please refer to our article "What to choose between a Low Aspect and High Aspect Foil?
The mast :
The smaller your mast, the easier it will be to start. However, a longer mast will be more scalable over time.
A 70cm mast is ideal for beginners learning to foil. Its relatively short size will be more forgiving of any positioning errors, and falls will be far less impressive.
An 80cm mast is extremely versatile. It will allow to evolve, to pumper, to surf, to manoeuvre more efficiently.
The fuselage :

The length of the fuselage impacts the handling of the foil:
a standard fuselage will provide more stability, pumping will be less physical but less manageable.
a medium fuselage will turn better, be more manoeuvrable but will require more frequency when pumping.
a short fuselage will be very manoeuvrable but will require even more frequency when pumping.
How to choose your SUP-Foil board?
Our SKY RIDER boards (7'8, 6'3, 5'8 and 5'5) are made of Brittany in order to implement the best of French know-how. This production technique is more expensive, but it guarantees incomparable quality and durability. SROKA Company is above all a team of enthusiasts, and we take pleasure in developing products that we use ourselves. That's why all our products are tested and approved at length by Bruno Sroka, founder of the brand, and his team of ambassadors.
7'8 : With its generous volume, it is the ideal board for a mixed practice, as well in SUP Foils on long soft waves, than in Paddle Surfing in waves from 50cm to 1m50… It allows you to optimize your time on the water and to vary your practice according to the conditions. You won't miss any session! It can also be used in Wind foil (free ride) or to make the first flights in Wing.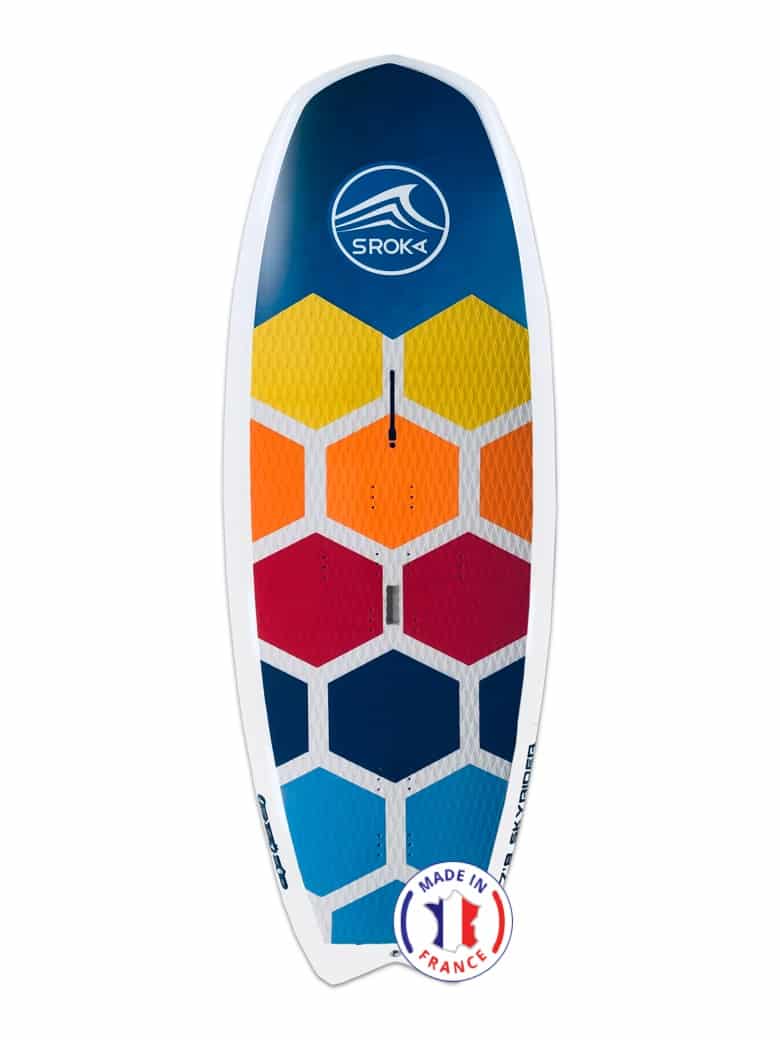 6'3: Its 120L volume is perfect for beginners in SUP-Foiling. Stable and easy to handle, this board is evolving and will accompany you in your progression.
5'8 : This board will please the most adept SUPFoil. Its 105L volume is great for downwind or surfing, and adapts to all conditions. Its shorter length makes pumping easier, the curves more radical and the sensations more intense.
5'5: Its small size (90L) will give you an incredible flying experience, due to its speed and manoeuvrability. Light underfoot, its ease of pumping will allow you to switch from SUP Foil, to WingFoil or SurfFoils without any difficulty. (intended for small sizes or very good levels).
Inflatable boards have nothing to send to the rigid ones. The design of our SROKA AIR boards makes them equally strong and durable over time. In addition, they have the advantage of being easy to store and transport, ideal for travelling.
6'4: It is intended for beginners and larger sizes. Very accessible and stable, it will make you take off in SUPFoil in all conditions.
6′: This board will be perfect for beginners who are looking for an evolving model. Its 144L volume makes it stable and very versatile.
5'3: This will allow the more experienced to get the most out of the SUP-foiling experience. It will also suit beginners with a light weightlooking for a board that will accompany them in their progress.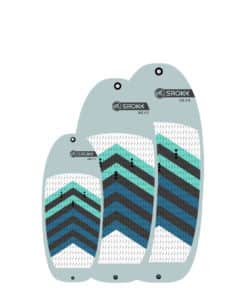 How to choose your SUP-Foil paddle?



CHOICE OF MATERIAL :



Carbon paddles are the best paddles on the market in terms of quality. Unlike aluminium paddles, which are likely to break in this type of practice, carbon paddles are both light and strong. The

the flexibility of a carbon paddle is more nervous than an aluminium

one (depending on the percentage of carbon):

100% carbon

and

50% carbon

,

they will be more or less rigid)

. For the practice of SUPFoil, or a sporty SUP ride, we recommend a 50% carbon paddle for an optimal paddle, with the best quality-price-performance ratio.

FIXED OR ADJUSTABLE PADDLE?
The SROKA Company fixed paddle has been designed for optimal paddling, with a lighter weight than the 2 and 3 part paddles. As a result, the nervousness is more interesting: you will have less loss of energy while paddling than with an adjustable paddle.
The adjustable paddle from SROKA Company has the advantage of being versatile and of being able to modify the height according to the size of the paddler and the practice. Be aware that the more parts you have (2 and 3 part paddles), the heavier your paddle will be. Another advantage is that they are undeniably easier to store and transport than fixed paddles.
Safety tips :
The SUPFoiling discipline can be dangerous, several precautions should be taken into account before getting into the water.
Practitioners must :
Choose a deserted spot or one with very few surfers around.

Provide a spot where there is enough bottom (the longer your mast, the more bottom is needed).

Choose a spot you know, to avoid the rocks.

When launching, remember to position your foil upside down behind you and slide it onto your back until there is enough bottom to turn the board over and start rowing.

Look for soft, flat waves that roll off, these waves usually correspond to mid-tide. The ideal and fun foil waves are the 40cm waves up to 1m for the more experienced riders.

Do not hesitate to protect yourself by using a helmet, an impact jacket and any other mandatory or recommended safety equipment.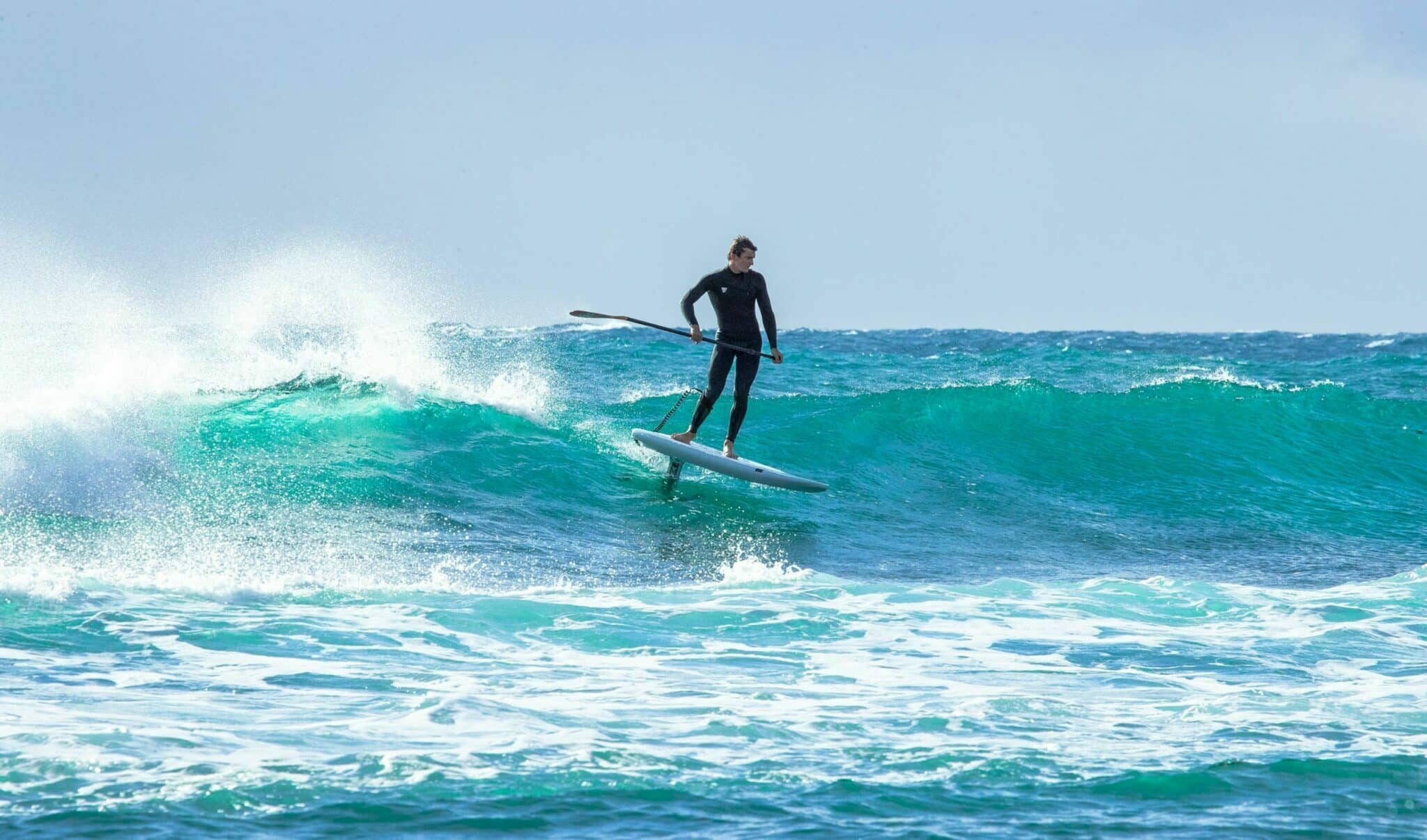 In summary…
Choosing the right SUP-Foil pack will determine how you foil. Our advice is therefore to take into account:
Foil's choice : To start with, a classic medium sized fin such as the SROKA Mid Aspect wing (1750 for larger sizes, 1500 below 85 kg, 1250 for a size below 70 kg) will be the most suitable. Do you have a good knowledge of SUPFoil and want to improve your performance and technique? A High Aspect foil with an 1190 L wing will allow you to reconnect the waves without difficulty while maximising your speed.
Choice of mast: Start with a mast of 70 cm will be easier. However, a standard mast (80 cm) will grow with you longer.
The choice of your board: rigid or inflatable, the larger the volume of your board the more suitable it will be for beginners and larger people. This type of model guarantees stability. Medium-sized models will be just as easy to handle, but will be more versatile and scalable as you progress. A board with a small volume will be light underfoot, easy to pump and allow you to sail with technique.
The choice of your paddle: carbon paddles are the most suitable for SUPFoil, which is the perfect compromise between lightness and strength.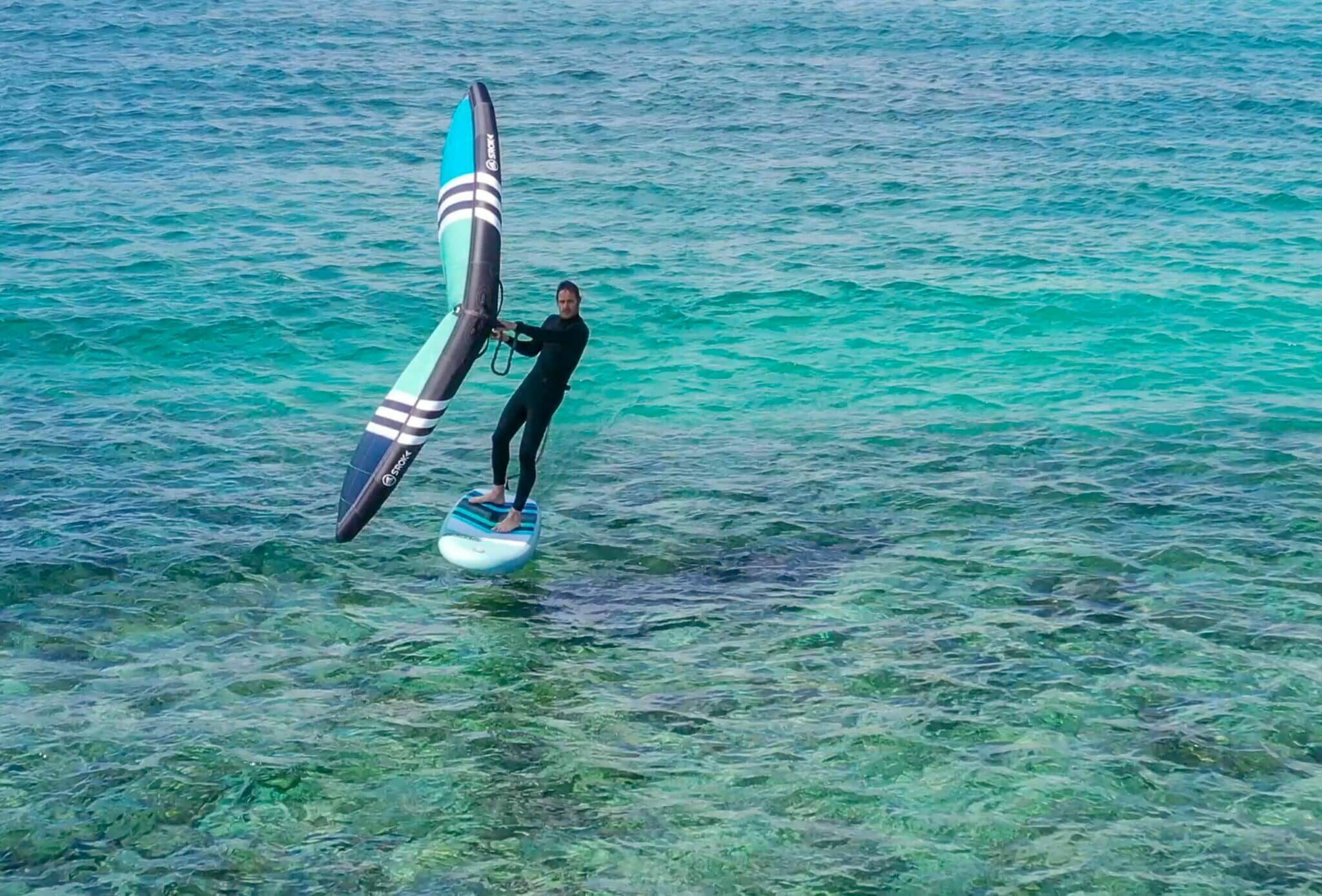 Vary the practices: our boards are also adapted to WingFoil!
Each of our boards is a model of versatility, so that you can fully explore all that foil and its disciplines have to offer. Whether it's Wing-Foil, Surf-Foil, SUP-Foil, Wind-Foil or Wake-Foil, our Sky Rider boards will fit you.
The SROKA Air board will allow you to sail in SUP-Foil as well as in Wing-Foil, according to your desires, the spot or the conditions. All you have to do is choose the volume that suits you.