The Stand-Up Paddle consists of paddling a large, wide board with a paddle, which is for us the most accessible water sport, which allows you to combine physical activity and escape. The ocean is our playground and we want to share with you our passion for SUP. That's why we're talking about the 5 good reasons to practice inflatable Stand Up Paddle. Are you already convinced and want to progress? We share our tips for starting and progressing in paddleboarding in this article.
5 good reasons to practice inflatable Stand Up Paddle
Reason 1: A sport accessible to all
Stand-Up Paddle is a discipline that anyone can try it! Whatever your age, size or physical condition, you will have no trouble getting into the sport. You just need to be able to swim. Having a bit of balance is also important, but this can be learned very quickly. It is far from being a dangerous sport, if you practice on a flat and calm water. And if you do it right, you won't injure yourself and your joints (unlike other water sports). Perfect if you want to do a lot of sessions without the risk of being sore the next day!
In addition, there are boards of Stand-Up Paddle for all budgets. At SROKA, we offer inflatable SUPs from 430 euros. In order to democratize the practice and for everyone to find their own way, you will find among our ranges, the paddle that suits your practice: walk, touring, racing, paddle-surfing… but also the type of water you want to sail on: lake, river, sea… All these aspects will help you to choose between a SUP type All Around or touring (pointed nose). The latter provides more glide, with less effort required, and allows you to cover more distance. As well as havinga sufficient length. In general, it is recommended to opt for a fairly long board, at least 11′, for rides. In our article "Choosing your inflatable paddle", you will find detailed advice on how to choose the ideal board.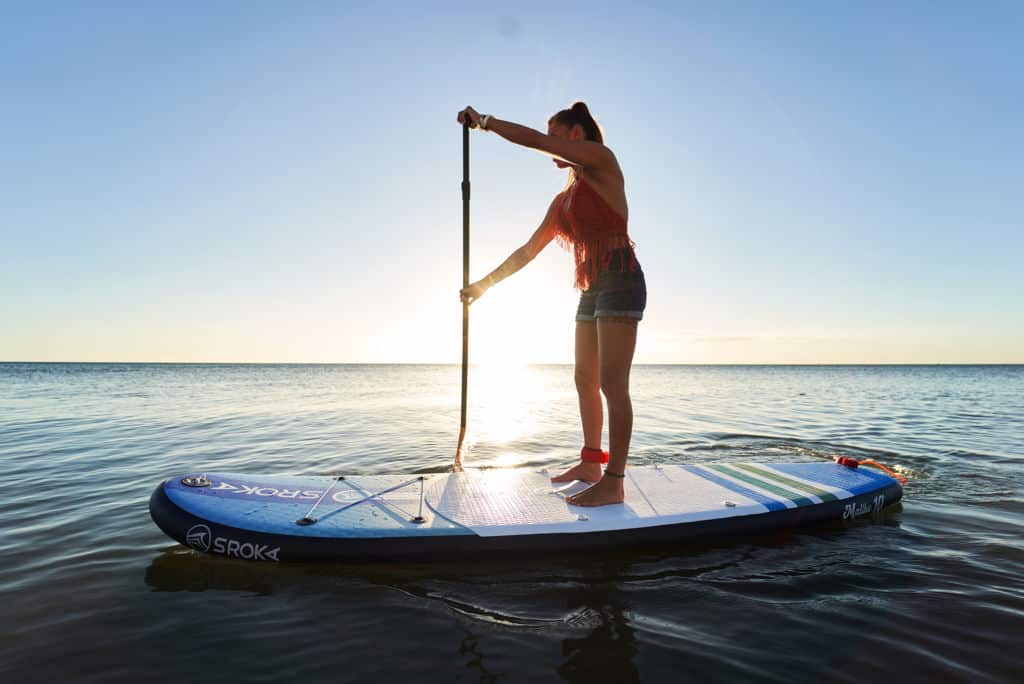 Reason 2: A way to escape and go on an adventure
SUP will allow you to discover new horizons, or to rediscover spots and land from the water. From the sometimes overcrowded beaches, paddle away from the shore and explore quiet places away from the hustle and bustle. Perfect if you want to recharge your batteries in nature, while taking care of your fitness.
It is also a way to explore unknown spots, whether you are on holiday or close to home. As you walk along the shoreline, it is very likely that you will discover small caves, or coves, that are not accessible by foot.
A SUP ride, beyond making you discover exceptional landscapes, allows you to cut off from everyday life, to be in your own bubble, far from the worries of life, and simply to enjoy the silence of nature on the water.
Are you planning to venture beyond the 300m limit? You can always use it as a small tender from your boat!
Reason 3: A beneficial practice for physical and mental fitness
Stand-up paddling on your SUP board is a great way to keep fit, work your muscles and have fun. Even at a slow pace, stand-up paddling requires you to breathe and develop your endurance. It is therefore very interesting if you want to improve your cardio. It is up to you to vary the level of intensity according to your desires!
This is a very complete discipline for your physical condition, which is also excellent for your proprioception. Staying upright while pushing the water with your paddle puts the muscles of the legs, arms, back and abs to good use. The legs will work on proprioception and your stability. Your abs will be constantly sheathed and your arms, shoulders and back will be used to give strength to your movements and to move you forward. However,you should know that the power of the rowing gesture is transmitted through the arms, but it is also transmitted through the legs to make the board slide.
The different muscles used during the practice of paddle :
And the big advantage is that you work without making a real "effort", without realising it!
Like all water sports, SUP has a mental dimension. Indeed, it is necessary to analyse the water surface, the water movements (generated by the wind, the waves, the currents, the boats in the surroundings…). As a result, the Stand-Up-Paddle will develop your sea legs and make it easier for you to take up other water activities.
On a mental level, it is the ideal sport to escape and recharge your batteries. During your outing, you are in the moment and enjoy a real breath of fresh air. Don't hesitate to give yourself a moment of relaxation on your board, by practising paddle-yoga or simply by indulging in a meditation session. All this can only be beneficial for your mental health, stress management (and it is scientifically proven!).
Reason 4: A fun and relaxing activity to share with the family
As we have said, paddling is a way to get away from it all. This sport is so accessible that it allows you to share good times with your family. Froma very young age, your children can accompany you on your outings.
With a SUP board, you can easily ride around with your children sitting on the front. This way, they can have fun looking at the bottom of the water, while participating in the ride. Moreover, it is possible that your children will soon want to row themselves, or dive into the water from the paddle. Inflatables are ideal for children, as there is much less risk of injury in the event of a fall than on a rigid. On the other hand, the inflatable is much less susceptible to shocks, especially paddle strokes that can happen when you are a beginner.
If you want to paddle with several people on one board, the SUP XL and XXL will allow you to take all your entourage along for a fun and friendly moment.
The SUP will allow you to get away from the crowds on the beach, and share an exclusive moment with your family, in the middle of nature. Let yourself slide on the water and let your friends and family discover hidden corners, only accessible to paddlers. And if you feel the need to rest, you can take a little nap by lying down on your board and letting yourself be rocked by the current (flat of course!).
Reason 5: Easy to transport equipment
The advantage of inflatable boards is that they take up much less space than rigid boards. Indeed, these often require the installation of roof racks to transport them in the car, spending some time strapping them down, taking the risk of having the board stolen when parking…
Whereas an inflatable board can be stored in a backpack, which makes it easy to store at home and take it everywhere! All SROKA SUPs are sold with a carry bag. You can travel with your paddle without worrying about damaging it.
SROKA models are designed to be impact resistant, to as robust and durable as possible. Indeed, we have reinforced them at the level of the rails, to avoid any problem of waterproofing, or related to a shock and friction. We use several layers of a high quality PVC (used for professional RIBs) for maximum waterproofing.
FIND ALL OUR TIPS FOR :
Join our Sroka SESSIONS group, to share all your best moments on the water! #BESROKA
CLICK ON THE LOGO TO FIND US ON SOCIAL NETWORKS: