The wind, the earth, the ocean, the sand, and nature in general are our inspirations for developing, testing and sharing with you the products we design. We live on the Breton coast (France) and adapt our lives to Mother Nature. Our goal is to reconnect people with nature by producing the best material at the most affordable price. We make quality, affordable products for exploring any body of water in the world. Since 2013, we have been testing and developing SUP, KiteFoil, SurfFoil, SUPFoil, WindFoil, WingFoil, WakeFoil and Kitesurf equipment. Our mission is to make the water sports sector evolve, while respecting our planet as much as possible.
Our priority: the quality and durability of our SROKA products
Let's face it, the water sports sector has a significant environmental footprint. Buy better, use longer: this is the motto that guides us in the design process of our SROKA products. By switching to quality water sports equipment, you will use it longer, and therefore contribute to reducing waste. Our priority is the quality and durability of our products.
What are the risks of buying first-price, low-cost equipment?
We can find equipment of all prices on the market, and it is sometimes difficult to find your way around. It is tempting to go for the cheapest, thinking that you will move on to a more expensive model when you have reached a higher level. This logic will generally not be the most profitable in the medium or long term. Indeed, an abnormally low price should always be a warning. A product offered at a price 40% or 50% lower than the competition is often a sign that certain criteria have not been taken into account: the quality, the durability of the product, the manufacturing conditions, the guarantee, or simply the time spent on testing and prototyping…
For example, a poor quality board can quickly cost you more than a slightly more expensive board. It may be that if the quality does not keep up, you will constantly have to carry out repairs. As a result, the original cost soars, in addition to the lost time and structural quality, and you will end up resigning yourself to changing your equipment, frustrated and disappointed with your purchase.
A quality hardboard will last you for years. We can take the example of windsurfing boards, still on the water twenty years later. When it comes to inflatable boards, they need to be strong to last over time, but they also need to be slide. It will be impossible to paddle on the board, which is similar to an "air mattress".
Example: everyone wants a light board, but light means more fragile because less raw material is put inside. At SROKA, we reinforce our boards by using specific glues with reinforced PVC (zodiac boat type). This construction guarantees a superior longevity of our products.
This is where the price-performance ratio is important. Designing robust, high-performance products is expensive. Understand, therefore, that a low-cost product cannot always cover the cost of such manufacture. It will inevitably be necessary to cut back on the quality and quantity of raw materials.
THE ISSUES OF CONSUMING LESS, BUT BETTER.
The reason we are so keen to design quality products for you is to ensure that they are durable and long-lasting. The longer your equipment lasts, the less we need to use new raw materials to produce new equipment.
In this way, excessive waste that destroys our environment is reduced. You can also save money by keeping your product longer. You will always be better off buying a 500 euro piece of equipment that will last you several years rather than a 250 euro product that you will have to change after a summer because it cannot be repaired… Buying, throwing away, and buying again leads to overconsumption.
In addition, you will be better off reselling a slightly more expensive piece of equipment, which will still be in good condition after hundreds of hours of use, because it will still have value, rather than a low cost product.
However, these criteria will vary according to the viewpoint. We don't always have the same expectations of a purchase. The notions of quality and sustainability can be quite subjective. We simply explain how cheap products do not always mean savings.
Of course, it is psychologically (and financially) easier to buy a product at a very low price, but you get the idea: it is all a question of perspective and duration.
The consumer society makes us less and less thoughtful in our purchasing decisions. So turning to a more substantial purchase has another advantage: that of becoming aware of one's consumption, knowing one's needs, and better managing one's budget. It also means rediscovering the pleasure of dreaming about your purchase, anticipating it and saving for it.
OUR VISION
SROKA Company has been a family business since the beginning. We operate in a tough and competitive market, where it is sometimes difficult to reconcile quality production, environmental protection, ethics and costs. Being a sustainable brand is important to us, so we Let's reduce our impact in our own way, by choosing the option that best combines all our values.
We still have some way to go, and let's face it, producing water sports equipment will never be synonymous with a zero ecological footprint.
But we try to do our best. The goal for us is the long term. Every decision, from development to manufacturing, is important. Choose a pleasant, well-crafted design, so as not to get bored with the years and trends, opting for innovations that make our products sustainable, not changing the range every year for no reason, are points that we do not neglect. We produce just the right amount of products, and some of them are produced in Brittany.
This production is certainly more expensive than production in Asia, but it has the advantage of reducing factory/brand delivery times, avoiding warranty problems as much as possible, andto order containers of boards with potential manufacturing problems! To find out more about the production of our rigid Wing Foil boards, click on this link. It also allows us to have a smaller environmental footprint than most brands, using bio-based resins and reducing transport costs and time.We also work with responsible transport companies to reduce their ecological footprint. We use bio-based resins and reduce the cost and time of transport.
« Buy it for life »
When we think of sustainable products, it goes far beyond occasional use. SROKA material is made to be used all year round, and to stand the test of time and sessions.
We are the first users of the products we design. We place particular emphasis on their efficiency, handling and durability. That's why we look for sustainable solutions, both in terms of design and raw materials, to achieve high quality and reduce waste.
We know that water sports can be a big budget, so it's inconceivable to us that our products can only last one season. The longer your equipment lasts, the less raw materials we use to produce new products. Designing and selling equipment that will follow the user for decades is our guiding principle in the fight against environmental degradation.
Quality as a standard
Quality is our priority. Each product requires several months of reflection in our premises in Brittany. We look for high-performance materials and call on the expertise of professional hydrodynamicists. We take into account your needs, so that all of them meet your expectations. All this information, combined with the unquestionable knowledge of our staff and the experience of Bruno SROKA (3 times world kitesurfing champion and the first man to have crossed Cape Horn in a kite), as well as our ambassadors, allow us to create a precise set of specifications.
We do not race to constantly innovate new products. We take the time to create products that suit you, to test them in different conditions, on different spots, to evaluate their performance, their rigidity, and the different uses you can make of them, and that will perform well over several years. Everything is determined down to the gram, to guarantee the quality and performance of the product.
When we receive the prototypes, we examine and test them carefully, modifying the product if necessary before starting production.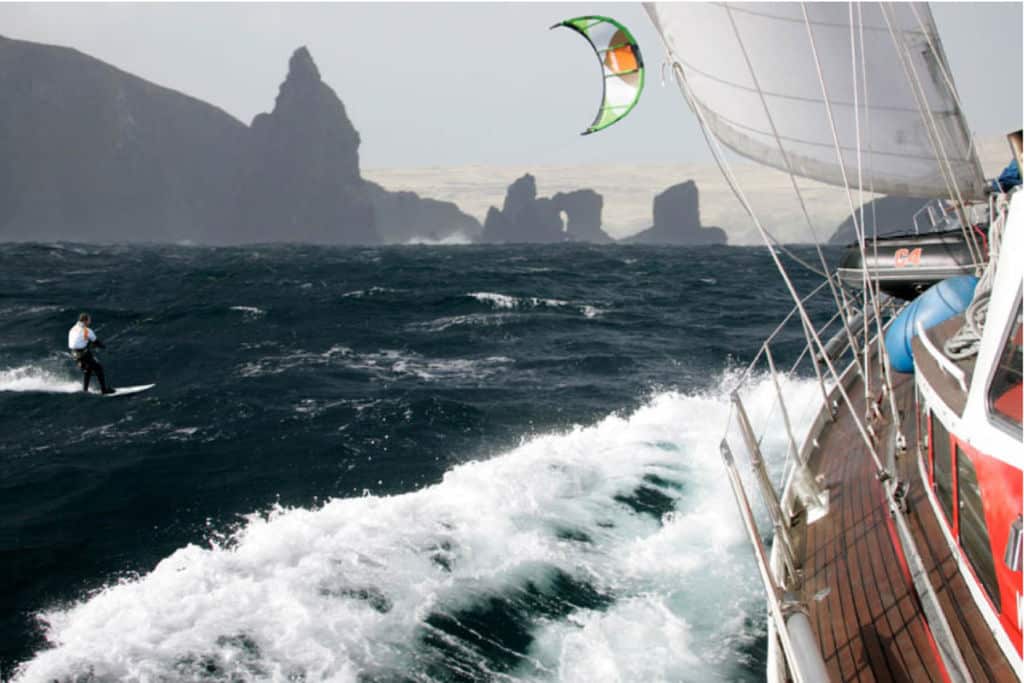 KEEP THE PRICE AFFORDABLE WITHOUT COMPROMISING QUALITY
Water sports are becoming more and more popular and the latest developments such as foiling and stand-up paddling are growing rapidly. There are many brands on the market, some of which use very low prices to be very competitive. However, as we have explained, a price that is too low should always be a warning.
We are aware that price is a barrier to purchase, and that some products are not within the reach of all budgets. For our part, we try to offer you the best value for money, so that our products remain accessible, without selling low-end products.
Our demands on the design of our products do not allow us to offer a low cost price. Each criterion has a cost: the better a product is manufactured, the higher its cost.
Although quality equipment rarely comes at the first price, unfortunately price is not always an indicator of durability.
A very high price does not guarantee anything, nor does it mean that the quality, social or environmental requirements of production are high. Some brands will sometimes "overprice" their products in the belief that the more expensive they are, the better they will be perceived to be. Be aware that many times you pay a large margin that does not reflect the quality of the product at all. At a very high price with the same materials, you don't necessarily pay for a higher quality product. For example, if brand X sells a foil at 1500 euros, while brand Y sells a similar one at half the price… it is likely that a large part of the margin and marketing will be paid.
It is therefore important to inform yourself, to compare, to ask yourself what is suitable for you or not. Do not hesitate to ask questions to the brand or to the sellers. At SROKA, we explain the design of our products on each product sheet. You can also contact us for more information.
THE GUARANTEE
Criteria to take into account when making a purchase: the length of the product's guarantee and the after-sales service. Please note that, in the event of a problem, an after-sales service is available to you
to answer your questions as soon as possible,
and we guarantee our products. You can therefore embark on the adventure without hesitation, and enjoy your future sessions.
For your information, please note that the warranty does not cover :
any package damaged in transit which has been accepted as such by the recipient,
any product purchased more than two years ago and outside the European warranty,
any second-hand product, purchased second-hand or product that has not been purchased from an authorised dealer or from Sroka Shop
any product that has not been used under normal and proper conditions
any product that has been damaged by poor maintenance or use: excessive exposure to sunlight or heat, poor storage, failure to rinse the equipment, inappropriate technical use (jumps, competitions, rentals, etc.), etc.
Find all our conditions of service, guarantees and returns here.
In summary
Why is it better to go for a product that is reliable in terms of quality, albeit a little more expensive?
You will always win financially in the long run with a robust and quality product

This will bring you more

comfort and ease in your sports practice

You participate in the reduction of waste and therefore adopt a more responsible behaviour

Be sure of your product warranty

You will have less difficulty in reselling it second-hand

You are potentially supporting a brand that favours quality over quantity, and that takes time to imagine, develop and test its products
FIND ALL OUR TIPS FOR :
Share your water sessions with us on our Sroka SESSIONS group! #BESROKA
CLICK ON THE LOGO TO FIND US ON SOCIAL NETWORKS: