Going on holiday in a van or camper van has many advantages, which justify the success of this way of travelling. Freedom of movement is the main advantage. With a house on wheels, you can move around as you please, stopping whenever you want, without depending on predefined routes and times. It is possible to go where you want, when you want.
Changing places every day allows you to constantly discover new landscapes and to be close to nature from morning to night. You don't have to go to the other side of the country, you can travel a few dozen kilometres to rediscover your region. Thanks to the van and the camper van, you can get away from the crowds, to escape and recharge your batteries in a natural environment. You don't need to go away for a week either, a weekend is already a break from everyday life.
Travel becomes much more spontaneous and authentic: there is no need to have booked months in advance to go on an expedition. Whenever there is an opportunity, you can travel and stop at the perfect place to get away from it all, away from mass tourism.
TRAVELLING BY MOTORHOME WITH A PADDLE
Stand-Up Paddling will provide you with many benefits, similar to travelling in a motorhome. When you stop by a body of water, inflate your SUP and explore the surroundings from the water. Just like on your van road trip, you can dock wherever you like and enjoy a quiet moment in the middle of nature. Expect to access unspoilt, deserted and natural spots that are only accessible from the water.
As you can see, travelling in a camper van or a van with an inflatable SUP in the boot is the perfect way to recharge your batteries and discover the countryside in a different way. In addition, it will allow you to take care of your physical fitness, even while travelling.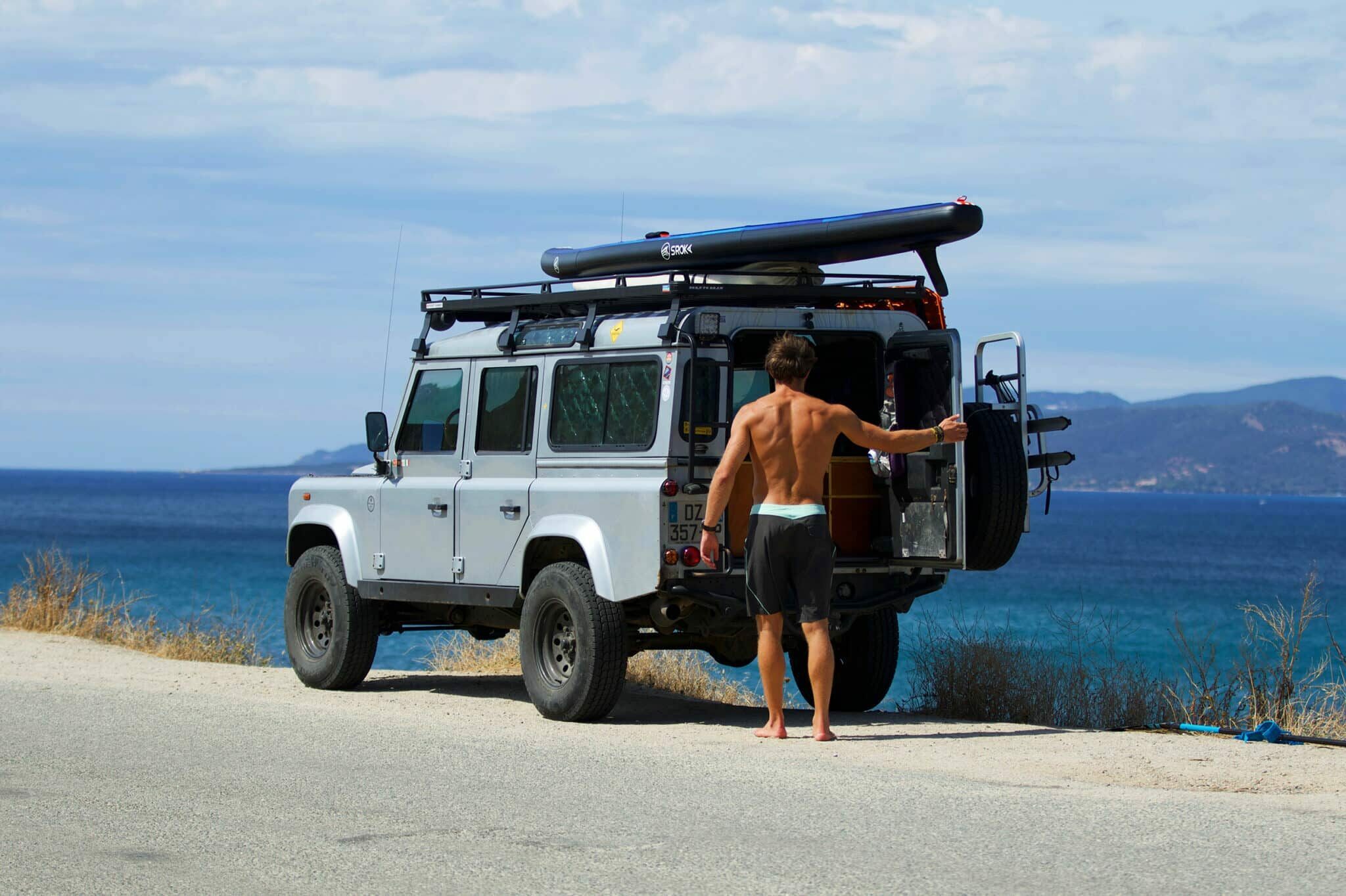 Ease of transport and storage of the inflatable
Travelling by camper van requires a minimalist approach to travel, with the least amount of clutter possible. Therefore, there is no need to overload yourself with a heavy and rigid board. As well as saving space, choosing an inflatable paddle will reduce any transport difficulties.
Folded in its bag, it can be easily stored in the boot of your van. The carry bag for an inflatable SUP is usually in the form of a backpack, sometimes even with wheels, so that it can be easily carried to the water.
Our SROKA inflatable Stand-Up Paddle bags have a large storage space (149 L volume), while remaining light and durable. The design of these bags allows for quick and efficient access and storage of the SUP. You can also put all your belongings, your towel, your sun cream, your GoPro, etc.).
We offer a Full Pack option for the ultimate in convenience when setting up your SUP with an electric pump. The full house also has a 50% carbon paddle and a leash. In addition, we offer removable paddles in two or three parts that can fit into your SUP bag.
The strength and durability of the inflatable
Travelling with an inflatable board can be a hindrance for fear of damaging it. A quality inflatable SUP will hold up very well in transit and will follow you around for a few years without moving. Of course, it is necessary to adopt the good gestures to guarantee the life of your SUP: avoid shocks, store it in your bag, do not leave it in the sun, do not go on the rocks, do not jump on the board etc…
As you can imagine, the difference between a rigid inflatable paddle board and an "inflatable mattress" is its construction and the materials used.
The Fusion technology that we use at SROKA is for us the most reliable, which allows us to gain in lightness (about 2 kg) on the overall weight of the board. We use the best Dropstitch and PVC on the market. In addition, three layers of PVC on the rails make the boards very rigid. This design is exclusive to SROKA, which offers one of the best glides of any paddles on the market while having a solid product. It guarantees us the longevity of the product, avoiding the problems of detachment that can be found with certain brands. It guarantees us the longevity of the product, avoiding the problems of detachment that can be found with certain brands.
Choosing an inflatable SUP for motorhome travel?
The Easy range from SROKA is the perfect compromise to start SUP. For riding, the Easy pack in 10′ and 10'6 is ideal to discover this sport. If you are looking for great stability for long distance rides, look for the Easy 11'6×32 and Easy 12'6×32. We have designed these packages to be affordable, yet powerful. As a result, the SUP Easy is sold as a complete package ready to sail.
The Malibu SUPs are all-around boards, accessible to all, for family outings, surfing small waves or even SUP–yoga. The Malibu 10′ is particularly suitable for light riders (under 80kg), whatever their level of riding or physical ability. The wider, thicker and longer Malibu 10'6 will suit taller people.
With Fusion Technology construction, Malibu paddles are of the highest quality, with optimum rigidity, to glide effortlessly through the water and above all to make your SUP last over time.
For long-distance riders, the Alpha range offers speed, performance and stability. It is an excellent compromise for long rides, with superb glide and speed with little effort. The Alpha models are also built with Fusion Technology, for durability and optimum gliding comfort.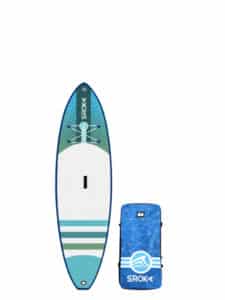 If you want to surf waves, but still have something to stand on, look to an inflatable model such as the Waves 9.5 Fusion, which uses the paddle as a motor to glide through the waves with ease. Its relatively short shape with a round outline makes it possible to make curves.
If you have a good knowledge of Stand-Up Paddle and you want to fly over the swell with a paddle, we can only recommend the SUP-Foil. Indeed, this practice will allow you to discover the first sensations in Foil.
SUP Foiling equipment has several advantages. First of all, it is very versatile: from your foil and your board, you can practice Wing Foil (with a kite in your hands), or towed foil behind a boat etc… On the other hand, the equipment is very easy to transport, it is even possible to fit everything into a bag! We have designed the inflatable foil board SROKA AIR, in 5'3, 6 and 6'4. This board has nothing to envy to the rigid ones. Our PVC construction makes them extremely sturdy, while maintaining an efficient glide. Moreover, this board will facilitate your transport and allow you to travel with ease. It also comes with a wheeled carry bag, with room for a SROKA AIR, a wing and a foil. Find all the information you need to choose your SUPFoil in this article.
Join our Facebook group Sroka SESSIONS and share your moments on the water with us! #BESROKA
FIND ALL OUR TIPS FOR :

Share with us your best memories of the ocean. Welcome to Sroka family.