Whether it's your first purchase, a gift or simply a desire for change, it can be difficult to choose a paddle. There are so many different types of paddle and so many different features. You may be wondering what the best choice would be between an
inflatable
and a rigid paddle and what the differences really are. Both have
advantages
and
disadvantages
, here is a comparison to help you choose.
The first point of comparison, and not the least, is transport. There's no question about it, an
inflatable SUP
is
much more practical
to transport. This is obviously due to the fact that it can be deflated and therefore folded. This way, once it's in its carry bag, it's super easy to take it to your favourite spots. Let's take the case of public transport. It's much easier to use them with your paddle in a backpack than with your board under your arm.
At first glance, rigid SUPs seem stronger because of their material. However, from a strength point of view, inflatable paddles are the clear winner. Inflatable SUPs are not afraid of shocks, unlike rigid SUPs. So don't panic if it gets hit by a paddle or rubs against a rock. This solidity is explained by the construction of the SUPs : the materials used, the construction technique, the manpower (handmade or not, time spent on the design,…). At Sroka we build all our paddles with high quality PVC and glue. These are the same materials used for professional RIB boats. In order to guarantee the paddles extra durability we use fusion technology for the deck and hull. Finally, our paddles have 3 to 4 layers of PVC on the rails (depending on the model) to further strengthen the paddle. This ensures that our SUPs are as strong as they can be !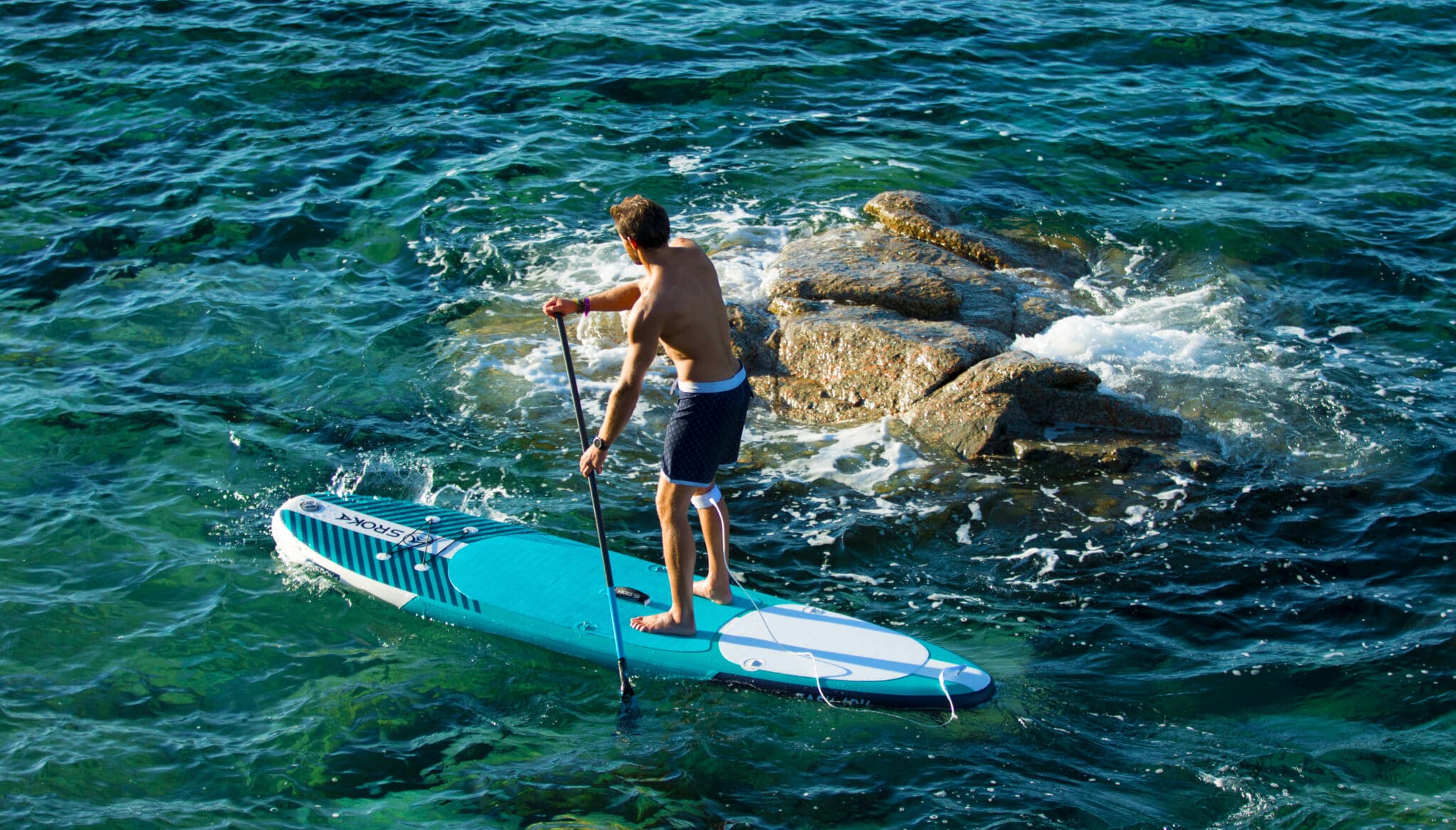 To begin with, in general, rigid paddles are a little more stable than inflatable paddles for the same size. In addition, rigid SUPs will also perform better in waves. This is due to the fact that the shape of a rigid paddle is more stable and provides more grip. Indeed, on a rigid paddle the rail can be worked (the edges of the board), which is not possible on an inflatable paddle. As far as gliding is concerned, it is a bit better on rigid paddles. However, with a well-built inflatable board you can almost match the glide of a rigid board. Let's just say that the inflatable paddle offers very high performance in 80% of the practices considered. However, if you want to go for high level paddling, the rigid SUP is recommended.
Inflatable paddles have the advantage of being easy and convenient to use. They are paddles that can be used by the whole family. Indeed, they can be used by all members of the family. One of the big advantages of the inflatable paddle is its use by children. They can ride on it without any problem, without too much risk of getting hurt in case of a fall, unlike a rigid paddle. There is also no need to worry about children damaging the inflatable paddle because it is so strong. In addition, on a family outing, the car is often quite full, so an inflatable paddle will be much easier to fit in between your things.
The question of storage obviously depends on the space you have available. It is obvious that with a large garage or shed, you will find a place for your rigid paddle. However, from a practical point of view, the inflatable SUP is much easier to store. Since it can be stored in a backpack, it doesn't take up much space. For those who don't want to bother deflating their paddle after each session, it is possible to store it inflated.
As a general rule, an inflatable stand-up paddle will be
cheaper
than a rigid SUP. Take the case of a top-of-the-range paddle: a rigid paddle costs around €2,000, whereas a top-of-the-range inflatable paddle costs between €600 and €999. This is the case for
Alpha paddles
, high-end SUPs that offer exceptional gliding performance.
There are many differences between an inflatable and a rigid paddle. However, we can conclude that 80% of the time an inflatable paddle is the most recommended option. Indeed, it is clearly the best option if you want a SUP for everything (leisure, hiking, afternoons at the beach, yoga..). A good quality inflatable paddle will undoubtedly give you great performance and durability, while remaining affordable. Not to mention that transport and storage are ultra convenient and easy. However, if the aim is to compete or achieve high performance in the waves, a top of the range rigid SUP is the way to go.
Find all our advice for :

The best Wing Foil spots around Montpellier Montpellier and its surroundings are full of superb Wing Foil spots. Whether you are a beginner or an
Join us on social media !