After dozens of hours of testing and numerous prototypes we are delighted to present
our brand new foil
! With the
new 950 High Aspect Speed front wing
and the new
240 stabilizer
, this combo will not leave you indifferent. We have taken the time to study all the variables in order to offer you a
high performance and quality plug and play product
.
What is the performance of this new foil ?
We wanted to develop an
ultra fast
,
very stable
foil with an
unrivalled gliding sensation
. It is a foil with which you can ride big swell trains without limits. Whether it's Wingfoil, Surffoil, Kitefoil or SUPfoil, the
950 HA Speed
will become your new favourite foil. The S-Foil HA 950 Speed is also
extremely responsive
. Thanks to its 100% carbon structure (not foamed) this fin is unbreakable. It provides maximum stiffness and therefore responsiveness. What we are looking for above all is precision on the supports in order to have maximum control in its curves. It is a
very easy to access
foil. You won't have any difficulties to tame it because it is plug and play. We have developed it in such a way that you don't have to make any additional adjustments. You could say that the foil is "self-tuning".
Features of the S-Foil 950 HA Speed
High aspect ratio : the high aspect ratio of the fin gives it an unrivalled glide. It will allow you to be very fast and to enjoy an excellent glide. Low relative thickness : thanks to its low thickness, the fin will give you an exceptional glide and nice speed peaks above 26 knots. The rope : the 14.5 cm rope gives enough tolerance to the foil for an easy and accessible planning start. Refined tips : the fin tips have been worked on to be sufficiently refined to allow for more manoeuvrability.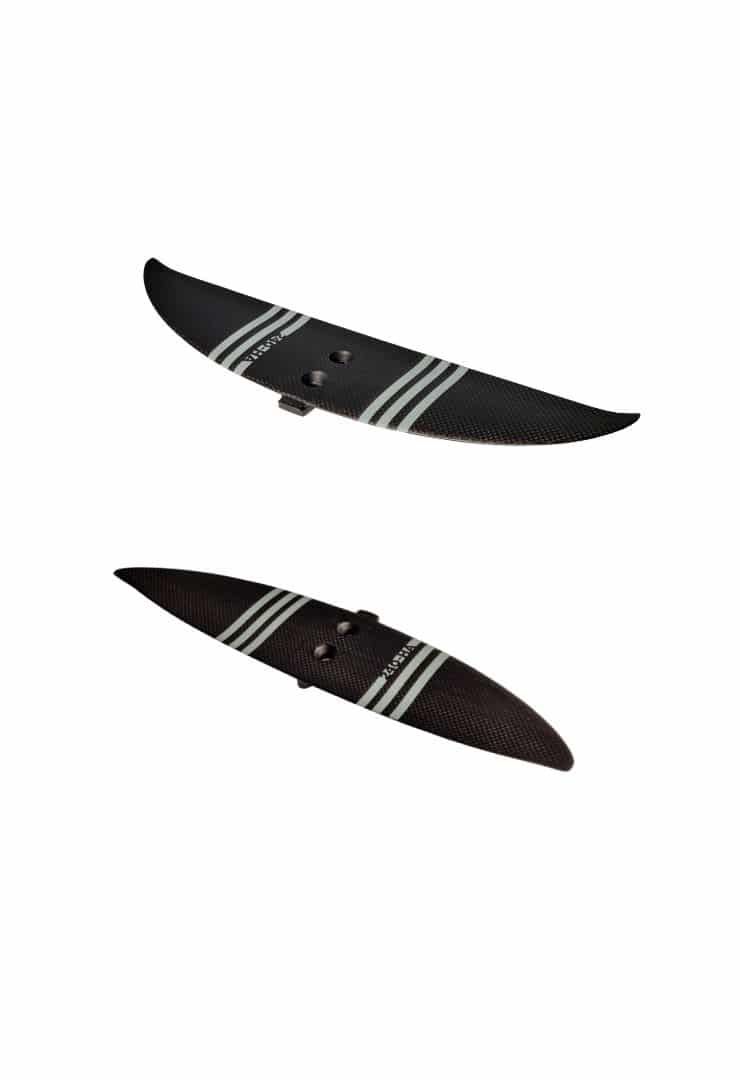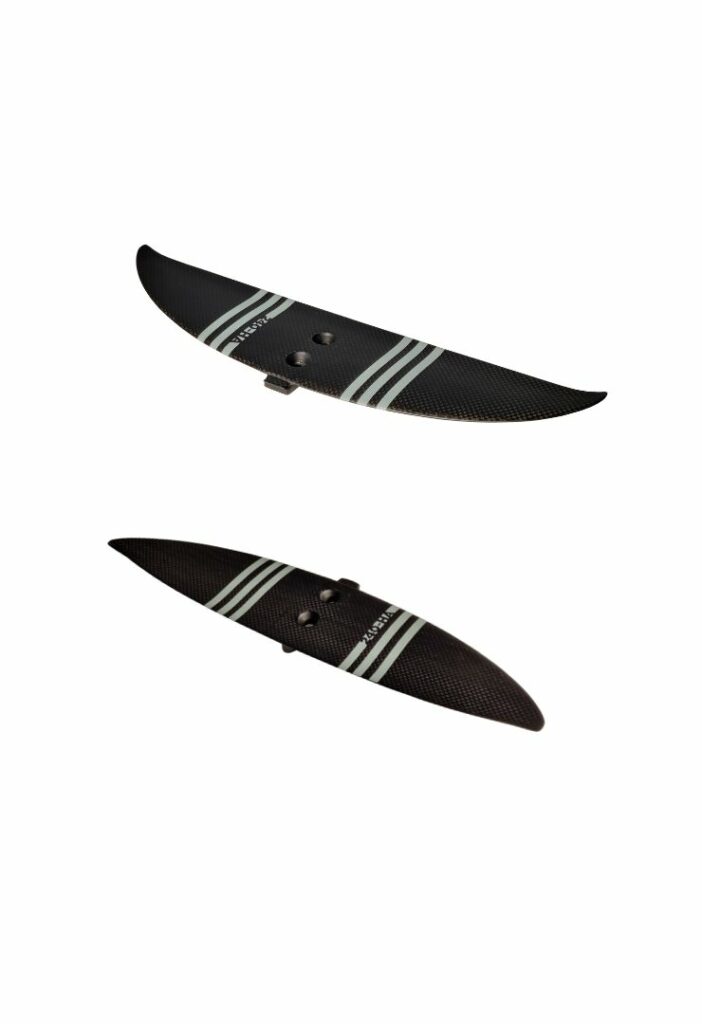 The new 240 (cm2) stabiliser has also been completely redesigned for optimum performance. The wingspan has been reduced and the chord and thickness have also been reduced. The new stabiliser is therefore more playful and easier to handle (compatible with all foils in the classic and high aspect Sroka range).
The
new S-Foil 950 HA Speed
has an
excellent glide ratio
, but what is a glide ratio in a foil ? You could compare it with a glider. The glide ratio is the distance the glider will travel without any propulsion effect. In foil it is the same principle, it is the distance that the foil will travel once launched, without giving it any momentum. A
high aspect ratio
foil fin will have a higher glide ratio. This is due to the high aspect ratio of the fin, with a wingspan of 85 cm for the 950. The higher the aspect ratio, the greater the glide ratio, but you will lose in manoeuvrability. It is therefore up to you to choose how you want to fly. With a high aspect ratio you will use less effort to cover the same distance, your foil will accelerate longer but it will be less manageable and more technical. To regain manoeuvrability, while keeping the same fin, there are several options :
See the options
For those who are looking for more handling and accessibility, we are developing a classic 950. It will give you control and manoeuvrability whatever your level.
You already know how to wing foil and you want to take it to the next level? Do you dream of surfing waves by flying
Read more "
Did you know that paddling is a great way to strengthen your body? Not only does it give you a great escape on the water,
Read more "
Do you want to fish in a different and more fun way? The paddle is the ideal solution for you! Imagine yourself gliding through the
Read more "
Join us on the social networks !