The best Wing Foil spots around Montpellier
Montpellier and its surroundings are full of superb Wing Foil spots. Whether you are a beginner or an expert, you will find the right wingfoil spot for you. Wing Foil is a sport that has been booming for a few years. It has even become a water sport must ! One of the big advantages of Wingfoil is its ease of use. Unlike Kitesurf or Windfoil, the wing foil is extremely easy to install on the beach, to launch and to transport. It is a sport that is accessible to all levels and does not require strong wind or wave conditions. Indeed, it is possible to sail in light winds, you can take off from 7-8 knots. So, in addition to optimising low wind conditions, wingfoil offers you a wide choice of spots and opportunities to practice.
We have selected for you the 7 best wingfoil spots in and around Montpellier.
Which Wing Foil equipment for the Montpellier spots ?
In Montpellier, as everywhere else, it is essential to be
well equipped
to practice Wing Foil. That's why at Sroka we offer
quality
wingfoil packages
adapted to each of you. This way, you will be able to fully enjoy the spots in Montpellier and all your other favorite spots. Our wingfoil packs contain everything you need to get on the water, it's plug and play ! You are already equipped ?
Complete your quiver
. The Sroka team is constantly innovating in order to offer equipment adapted to everyone's desires and to the different conditions in which you practice foil. For example, we have
high-performance and versatile front wings
that are perfect for light conditions or pumping, others for speed and freestyle, or even for downwind.
The 7 best Wing Foil spots around Montpellier
The Espiguette beach is without doubt one of the best Wing Foil spots around Montpellier. Located just above the Port Camargue, the Espiguette beach stretches over no less than 10 km. With its long stretch of fine sand, it is one of the most beautiful beaches in the region. It is suitable for beginners as well as for advanced surfers. The wind is fairly regular. It is generally south, southwest and northwest. There may be a few sandbanks further out, so make sure there is always enough water for your foil.
Like most beaches in the south of France, the beach at Espiguette is very busy in the summer months. It can sometimes be difficult to find space. The advantage is that you don't need much space to set up your wingfoil equipment.
Port Camargue - South Beach
The Plage Sud is probably the best Wingfoil spot around Montpellier in a tramontane wind (North-West wind). It is also a very well known spot for kitesurfers. The wind conditions are ideal all year round which makes it a very popular playground. It is better to have a confirmed level to ride on this spot. There are sometimes a lot of people in the water, but it is a great place for skilled and expert kiteboarders to have fun !
The beach is relatively easy to get to thanks to the nearby car park.
Good to know : in the summer, swimming areas are set up and the car park becomes chargeable (from June to September).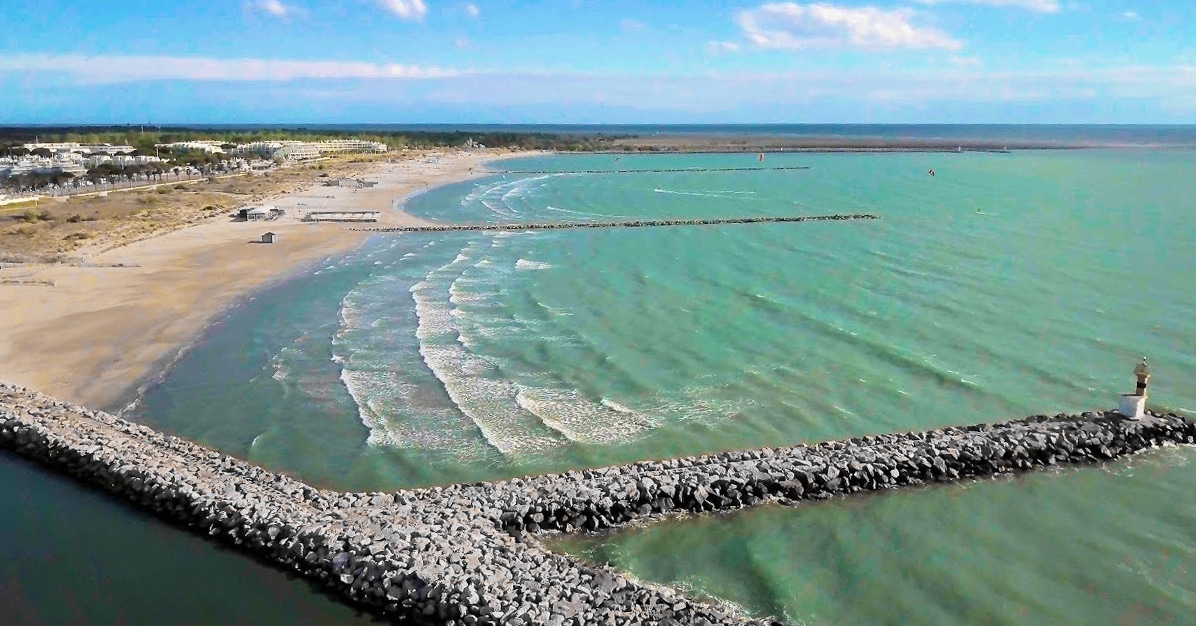 Located 15 minutes from Montpellier, Le Boucanet is one of the best wing foil spots in the area. It is an excellent spot in a westerly wind. It is also possible to foil in a southerly wind. Depending on the conditions, the spot of Le Boucanet can host some waves. You can have fun with free surf or surf foil. Front wings like the 1350 High Aspect Lift are perfect for surfing foil or wing foil in small conditions, ideal for small summer waves without consistency. The best part ? The length of the beach is perfect for downwind riding !
But be careful if you want to sail in peace and quiet. Le Boucanet is a very touristy beach that attracts many holidaymakers during the summer.
The Grand Travers beach in La Grande-Motte is the ideal spot to start wing foiling around Montpellier. The favourable winds on this beach are South, South-East and South-West winds. With a South-East wind the beach becomes a great wave spot, so you can have a lot of fun in surf foil ! During the summer, swimming zones are set up to separate swimmers from foilers and kitesurfers. It's quite practical to learn wing foil in all tranquillity.
The beaches of Carnon towards Montpellier are very good spots for wing foil when the conditions are right. The best winds for foiling are from the South and South-West. However, the winds can be very irregular at times. These spots are suitable for both beginners and advanced foilers when the conditions are bigger. The beaches of Carnon are easy to get to, there are plenty of car parks around. Some beaches are closed to kitesurfing during the summer months, such as the Roquilles spot. We therefore advise you to check with the locals about the sailing conditions in the wing foil before you go there.
The spot of Villeneuve-les-Maguelone is one of the most beautiful wing foil and kite surf spots in Montpellier. The beach is about 8km long and it is possible to surf in all wind conditions. The most common wind directions are south-west and north-west. Be careful with onshore winds, be vigilant and do not sail alone. On this spot it is better to know how to sail upwind to foil safely. Access is somewhat less easy than for the previous spots. There are two possibilities. You can park in the car park (paying from May to September) and walk the rest of the way. It's about a 15 minute walk. Alternatively, a small train runs in the summer to get to the various beaches.
The advantage of a pond is that it is possible to sail in almost any wind condition. The best orientations are South-East, South-West and North-West winds. North winds are not ideal for this pond. It is the perfect spot to start wing foiling around Montpellier. The experienced and the experts will also be able to find their happiness here depending on the conditions. It is the meeting point of many foilers ! There are many facebook groups where you can get information about the spots and exchange with other wingfoil lovers in the Montpellier area.
If you have any questions about this or any other request, please do not hesitate to contact us !
Tutorials
How to repair an inflatable paddle ? Inflatable paddles are a fun and practical way to get out on the water. However, like any piece
Read more »
Tutorials
Which inflatable paddle to choose according to the practice ? Increasingly popular with water sports enthusiasts, the inflatable paddle has many advantages. Light, strong and
Read more »
Tutorials
How do you attach your GoPro to an inflatable paddle board ? Are you a stand up paddle (SUP) enthusiast and want to capture your
Read more »
Join us on social networks !