Our addresses for foiling on mountain lakes
The foil is a lift system that enables board sports enthusiasts to fly above the water. The foil's underwater wings push back the limits of various practices and optimize speed. The foil can be adapted to a wide range of board sports: kitesurfing, windsurfing, wakeboarding, wingsurfing…
But where can you go foiling in France? If you're looking for quiet spots away from the crowds and noise, mountain lakes are an ideal option. In fact, these bodies of water offer a variety of conditions to suit all levels, as well as an exceptional natural setting. Whether you're a beginner or an expert, there's sure to be a lake to suit your foiling needs.
The advantages of foiling on a mountain lake
There are several advantages to foiling on a mountain lake:
A calm, flat water surface, ideal for learning the basics of foiling or perfecting your technique.
Regular and often thermal winds, allowing you to sail often, with a smaller, more maneuverable kite.
Avoid the crowds and stress of overcrowded spots, and gain in safety and serenity.
Discover magnificent landscapes, with mountains, forests and picturesque villages.
Vary the pleasures of different foil sports, depending on your mood and the weather conditions.
What sports are available? wing foil, dockstart...
Depending on the type of foil you have, you can practice different sports on a mountain lake:
Here is our selection of the best foiling spots on mountain lakes:
Spot 1: Lake Annecy - Haute-Savoie
Lake Annecy is the second largest natural lake in France, located at the foot of the Alps. It's a well-known spot for foiling, thanks to its thermal wind, which regularly blows between 10 and 20 knots. The lake offers clear, clean water and exceptional views of the surrounding mountains. You can practice wing foil, dockstart or wake foil on the lake, respecting the authorized navigation zones. You'll also find plenty of services and activities around the lake, including foiling schools, equipment rentals, restaurants, beaches, campsites and more.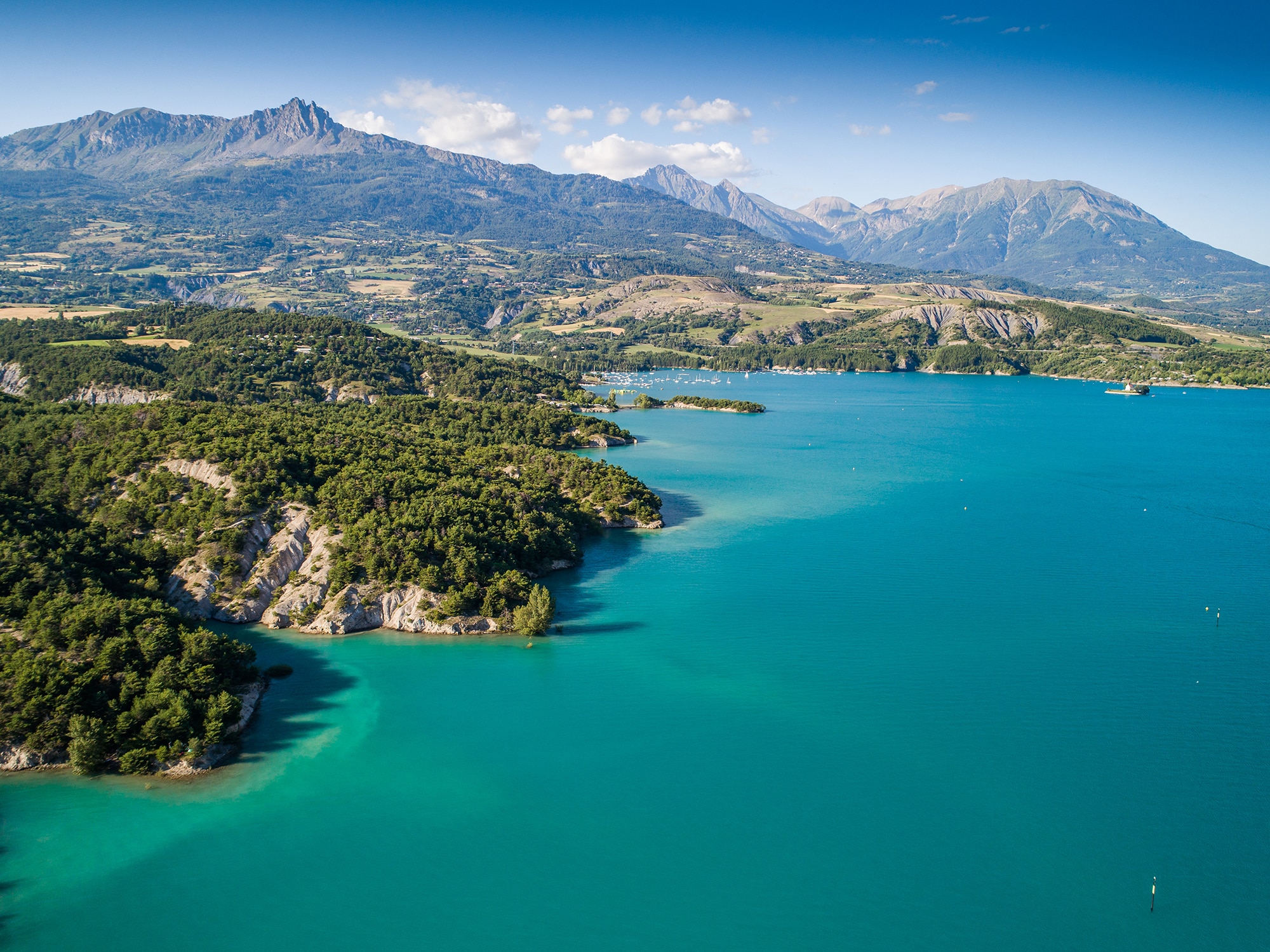 Spot 2: Lac de Serre-Ponçon - Hautes-Alpes
Between the Southern Alps and Provence, you'll find Lac de Serre-Ponçon, Europe's largest man-made lake. This natural, unspoilt lake is ideal for foiling. The wind is steady, generally between 15 and 25 knots. The advantage of lake sailing is that if the wind isn't there, you can always have fun trying out dockstarts or pumping.
In case you're not equipped, there are kite foil, wingfoil and electric foil schools on the lake shore!
Spot 3: Lake Geneva - Haute-Savoie and Switzerland
Looking for a varied foiling spot? Lake Geneva is the place for you. It's the largest lake in Western Europe, shared between France and Switzerland. It's a versatile spot for foiling, thanks to the different winds that blow depending on the season and time of day. The lake offers cool, crystal-clear water and a diverse landscape of mountains, vineyards and towns. You can practice wing foil, kite foil or surf foil on the lake, as well as wakefoil. If you don't have a boat, you can take advantage of the wakefoil sessions offered by the local clubs.
Spot 4: Lac de Sainte-Croix - Var
Lac de Sainte-Croix is a large lake in the Verdon region, just outside the famous gorges. A great spot for foiling, the lake offers a large surface area for sailing, as well as a charming Provencal setting. On this lake you can practice wing foil, as well as dockstart or wakefoil.
As with the other lakes, you'll find schools and clubs offering foil equipment for hire, so you can enjoy the headache-free pleasures of gliding across this magnificent lake.
As you can see, foiling on a mountain lake is a unique and rewarding experience. Whether you're a beginner or an expert, you're bound to find a spot where you can practice wingfoil, wakefoil or dockstart. So don't hesitate to explore these exceptional addresses and discover the pleasure of flying over water!
If you have any further questions, or if you have any other requests, please don't hesitate to contact us!
Article that might interest you
La réputation de la "wind city" n'est plus à faire, hotesse du mondial du vent depuis plus de 20 ans, Leucate est une destination idéale …