SUP Duo Easy 15'9
769,00€ Expedition non comprise
SKU : DuoEas-22
In stock
The inflatable Stand up Paddling with the EASY DUO
The Easy Duo 15'9 allows you to practice inflatable paddling in tandem. As a family, as a couple or with your pets, go paddling and surfing and share unique moments on your favorite spots! With its length of 15'9 feet (457cm) and width of 34" (86cm), the Duo Easy paddle board offers excellent glide and stability. Its construction features high quality PVC and Dropstitch for unmatched durability. Your board is reinforced with two layers of PVC on the rails and a stringer providing rigidity. This rigidity is also improved with its 6" (15cm) thickness. It supports a maximum load of 220 Kg for its 18Kg. Your stand up paddle and accessories are guaranteed for two years, like all our products on the site.
The SUP Easy Duo comes with a carry bag and a dual action hand pump, plus a Slide In fin and repair kit. A neoprene handle is offered for maximum comfort. For even more comfort, electric pumps are available on the website.
Find all the SUP of the Easy range on this link. Discover also all our articles to choose your SUP board and its accessories, to start well in the discipline or our ideas of trip with your board!
Worldwide delivery – duty free available. All products in stock on the site are available right now.
More Info
The stand up paddle designed for the family
Our team has designed the best SUP for family stand up paddling. It has everything that makes our Easy range so successful: a soft rocker perfect for absorbing chop, a width offering stability and an incomparable glide. Its sloping nose makes it possible to pass the chop of a lake as well as of the sea without effort. Its square tail ensures an impeccable balance. With two elastic bands at each end of the board, everyone will have room to store their belongings with ease.
Its qualities will allow you to embark with two adults accompanied by one or two children for family rides. A carry bag and a double flow hand pump are provided, in addition to a slide-in fin.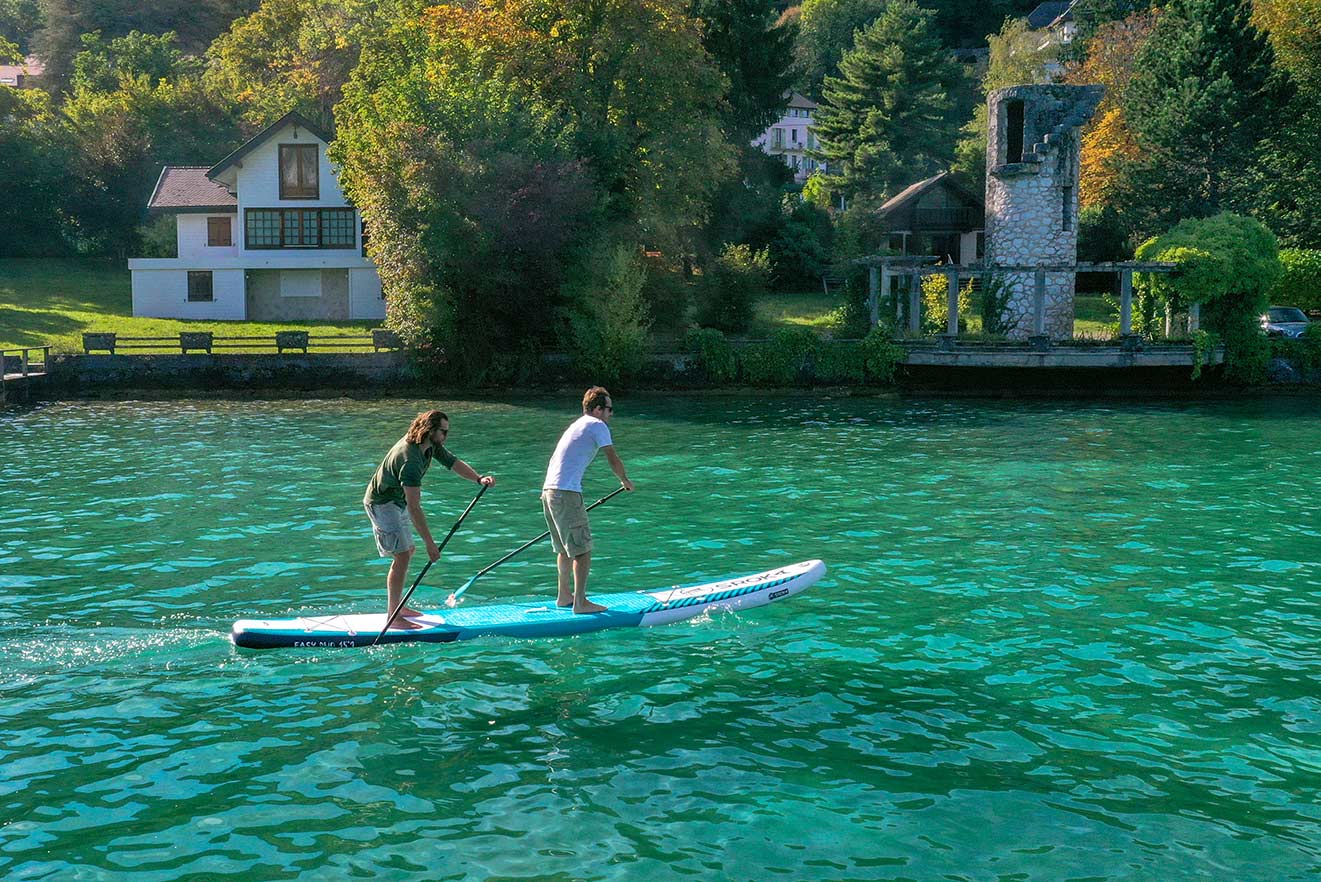 High-end construction at the best price
For almost 10 years, we have selected only the best materials for your inflatable SUP boards. PVC is used for professional RIB boats such as life guards boats. The Dropstich is made of dense filaments that guarantee optimal rigidity. Our glues are among the only ones on the market that can withstand the Caribbean sun, in addition to respecting the health of factory workers. This range also benefits from a double layer of PVC on the rails, and longitudinal reinforcements (known as stringers) which reinforce the deck and improve the rigidity and performance of the whole.