Sroka Watersports delivers worldwide. If you're living in Ireland and are looking to buy a Wing Foil, a Surf Foil, a SUP Foil, a Wind Foil, a Kite Foil, a Wake Foil or an inflatable Stand-Up Paddle to enjoy the varied and exceptional conditions of the sailing land that is Ireland, we deliver!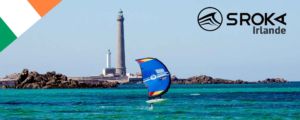 Ireland is swept all year round by strong winds which are favourable for the practice of water sports. Similarly, the surfing conditions are always good, sometimes impressive. Moreover, the country and its spots are not yet too crowded by tourism. However, Ireland attracts a small but very loyal community of very good sailors and surfers. Infrastructures are slowly developing. If you are ready to brave its cold waters and storms, this is certainly one of the most beautiful snowsports countries that offers you all its incredible potential.
As far as the weather is concerned, Ireland is regularly hit by depressions, especially in autumn and winter. They bring a steady wind that easily reaches 25 knots. In summer, without ever reaching tropical thresholds, the temperatures become milder and the wind regimes more clement. You can find the tide tables here. Ireland is therefore full of spots more or less known to the general public. Among the most popular are the Dingle Peninsula and Dollymount. The Dingle Peninsula is home to some very well known spots that will delight kite, windsurf and surfing enthusiasts, whether or not they are in foil. The most mythical is certainly Brandon Bay. We let you enjoy the images that the place can produce here. The prevailing wind is a south-easterly wind. The spot offers a variety of wind and wave conditions. There is also a sailing school offering foil courses on its banks. On the Dublin side, you will appreciate Dollymount Strand. Within 10 minutes of Dublin, you will find good waves at high tide and with a southerly wind. There is a reserved area for kite and windsurfing in St Anne. Once the tide is low, the conditions become much easier and facilitate the practice of foil.
The west coast is not to be outdone. Although the weather conditions may be milder, we still recommend a good wetsuit if you decide to go for a drive around Achill Island. The Keel Beach side of the island is always in good conditions. The beach is south-west facing with prevailing north-westerly winds. The waves are less formed on the west side of the beach, for beginners or those who come to surf in foil. Those who wish to do Wing Foil, Kite Foil or Wind Foil will be pleased with a strong and constant wind and the very flat water of Lake Keel, perfect for Foil and speed.
Finally, for lovers of Stand Up Paddle and sporty hiking, get out your Alphas. The Irish islands are both beautiful and full of wildlife. Apart from the very windy and sporty Achill, there is, for example, Ireland's Eye. This island is remarkably well preserved. On the ground, your inflatable SUP on your back, you will cross sheep and birds. At sea, it is very common to see dolphins and seals.
Do you live in Ireland and are you looking for a Wing Foil, Surf Foil, SUP Foil, Wind Foil, Kite Foil, Wake Foil or inflatable Stand-Up Paddle? We work with the best international carriers in order to assure you a fast delivery with the assurance that your good will be transported in excellent conditions. Please allow 5-7 days for delivery if you live in Ireland.
You can count on our international experience and expertise in the world of board sports to guarantee you the best quality products and services.
Do not hesitate to contact us at contact@srokacompany.com, French and English speaking consultants are at your disposal!
Take part to the adventure #Besroka
"Some people live their dreams and others dream their lives, I belong to the first group". – Bruno SROKA