Sroka Watersports delivers worldwide. If you're living in Ireland and are looking to buy a Wing Foil, a Surf Foil, a SUP Foil, a Wind Foil, a Kite Foil, a Wake Foil or an inflatable Stand-Up Paddle to enjoy the varied and exceptional conditions of the sailing land that is Ireland, we deliver!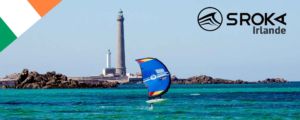 Ireland is swept all year round by strong winds which are favourable for the practice of water sports. Similarly, the surfing conditions are always good, sometimes impressive. Moreover, the country and its spots are not yet too crowded by tourism. However, Ireland attracts a small but very loyal community of very good sailors and surfers. Infrastructures are slowly developing. If you are ready to brave its cold waters and storms, this is certainly one of the most beautiful snowsports countries that offers you all its incredible potential.
As far as the weather is concerned, Ireland is regularly hit by depressions, especially in autumn and winter. They bring a steady wind that easily reaches 25 knots. In summer, without ever reaching tropical thresholds, the temperatures become milder and the wind regimes more clement. You can find the tide tables here. Ireland is therefore full of spots more or less known to the general public. Among the most popular are the Dingle Peninsula and Dollymount. The Dingle Peninsula is home to some very well known spots that will delight kite, windsurf and surfing enthusiasts, whether or not they are in foil. The most mythical is certainly Brandon Bay. We let you enjoy the images that the place can produce here. The prevailing wind is a south-easterly wind. The spot offers a variety of wind and wave conditions. There is also a sailing school offering foil courses on its banks. On the Dublin side, you will appreciate Dollymount Strand. Within 10 minutes of Dublin, you will find good waves at high tide and with a southerly wind. There is a reserved area for kite and windsurfing in St Anne. Once the tide is low, the conditions become much easier and facilitate the practice of foil.
The west coast is not to be outdone. Although the weather conditions may be milder, we still recommend a good wetsuit if you decide to go for a drive around Achill Island. The Keel Beach side of the island is always in good conditions. The beach is south-west facing with prevailing north-westerly winds. The waves are less formed on the west side of the beach, for beginners or those who come to surf in foil. Those who wish to do Wing Foil, Kite Foil or Wind Foil will be pleased with a strong and constant wind and the very flat water of Lake Keel, perfect for Foil and speed.
Finally, for lovers of Stand Up Paddle and sporty hiking, get out your Alphas. The Irish islands are both beautiful and full of wildlife. Apart from the very windy and sporty Achill, there is, for example, Ireland's Eye. This island is remarkably well preserved. On the ground, your inflatable SUP on your back, you will cross sheep and birds. At sea, it is very common to see dolphins and seals.
Do you live in Ireland and are you looking for a Wing Foil, Surf Foil, SUP Foil, Wind Foil, Kite Foil, Wake Foil or inflatable Stand-Up Paddle? We work with the best international carriers in order to assure you a fast delivery with the assurance that your good will be transported in excellent conditions. Please allow 5-7 days for delivery if you live in Ireland.
You can count on our international experience and expertise in the world of board sports to guarantee you the best quality products and services.
Do not hesitate to contact us at contact@srokacompany.com, French and English speaking consultants are at your disposal!
Take part to the adventure #Besroka
"Some people live their dreams and others dream their lives, I belong to the first group". – Bruno SROKA
S FOIL
The S Foil is the result of years of research, love of riding and testing. We have selected high quality aluminium for the mast and solid carbon for the fins. The aim is to guarantee you unprecedented flying pleasure. It is a complete, versatile, high-performance foil. He will make you fly without any effort, in all possible and imaginable conditions.
Furthermore, S Foil can be used in 6 different practices thanks to its modular front wings 1250 (blue), 1500 (yellow), 1750 (orange) and2000cm2 (red). Wingfoil, windfoil, supfoil, surfoil, wakefoil or kitefoil everything is possible with S Foil. Its construction quality combined with its versatility and performance guarantee you a unique flying pleasure.
WINGFOIL
Thewingfoil may have only recently arrived on our shores, but Sroka takes very special care of it. We have grasped all the potential for freedom, gliding, speed and sensations that Wing Foil brings. That's why we want to offer you the best possible products so that you can experience sensations that live up to all the promises of Wing Foil. Moreover, we want to do it at the best possible price/quality ratio. Our wings are light, strong, rigid and resistant. Very manoeuvrable, they are equipped with comfortable handles for smooth and comfortable manoeuvring.
With our wings, we have designed unique boards, which we have had manufactured in France. The Sky Rider 5'5, 6'3 and 7'8 combine with the S Foil for a perfect combo in all conditions. All the Sky Rider, wing and S Foil versions are available in packs. These packs will allow you to get out on the water without waiting. For those who want to go beyond their limits and those of the Wing Foil, the Fast Flyer 4'6 has been designed for you. It is available as a pack, and includes all the options you could ever dream of. Don't hesitate to consult our wing foil tutorials, written to help you get started and choose your equipment right here!
SURF FOIL, SUP FOIL and WAKE FOIL
Foil has transformed surfing, sup and wake. Sroka was part of this revolution. The aim of our products is to offer you unique and easily accessible gliding sensations. They have taken advantage of years of experience, perfection and love of gliding, so that you can fly in all conditions… and even surf without waves. To combine with the S Foil we have designed specific boards for the practice of Surf Foil, Sup Foil and Wake Foil. The 160×52 board allows efficient pumping (and if not, here's how to improve your technique by following our tutorial). We were talking about not needing waves, here is the Pocket board. This board, combined with the S Foil and our largest fins, allows you to start from a pontoon or a beach (here are our tutorials for making these starts). If you want to understand how it is possible to fly with nothing more than a board, good technique and faith, we explain how here. The Pocket Board also works very well in wake foil. Packs are available for easy access to practice.
Of course, we have not set aside Sup Foil. The combination of Sky Rider 7'8 and S Foil opens up new horizons in Sup Foil or Down wind sup. Thanks to Foil, it is possible to surf new spots and enjoy a sensation of acceleration and speed never before experienced. The Sky Rider 7'8 board is made in France and benefits from a unique know-how and experience, so yours is too. It can also be adapted to your beginnings in wing foil, or make a very good wind foil board. If you want to discover the practice or get advice on the choice of equipment, don't hesitate to consult our guide to help you choose your first Sup Foil.
KITE FOIL
Bruno Sroka, three-time world kite surfing champion, has taken special care of this product range. Our range has several assets. First of all, the S Foil, super versatile, will be able to suit as it does surf foil, sup foil or wake foil, for example. However, we wanted to present a model of foil exclusively designed for kitesurfing; the K-foil, recognised as one of the best on the market. It is available in aluminium or carbon version. Both versions are made of very high quality materials, in full carbon. The K-Foil allows you to take off from 5 knots. It owes its exceptional performance to its construction materials, its design to the nearest micron and its development. It will allow you to go four times faster than the wind. Fins and masts of various sizes are available to cover all possible uses, levels and conditions. Testers have enjoyed its performance, accessibility and fun and we hope to help you with our guide to make the right choice between the materials, wings, stabilisers and masts available.
Several boards are available to allow you to reveal the full potential of K Foil. Both the Pocket board and the 160×52 are available. The 160×52 is an excellent compromise. It is easy to access, high performance and upgradeable. The Pocket Board is there for the most experienced practitioners. Whether you want to learn kite foil or to surpass yourself, our boards will give you the pleasure of flying with ease and performance.  Once again, ready-to-navigate kite foil packs are available.
Wind Foil
The foil has raised windsurfing higher than ever before and given a new lease of life to the sport. The time of looking with frustration at a flat and windless stretch of water is over. From 7 knots, Sroka foils will make you fly. Faster, more fluidity, gliding and acceleration are the promises of our foils. As with the Kite Foil and to add to the S Foil, we have developed a foil perfectly adapted to the practice of wind foil. As excellence, performance, accessibility and completeness are important to us, we have equipped the FreeRide Performance with several options to satisfy all desires, making it an easy, solid, evolutionary and high performance foil. Whether you are a novice or experienced, looking for the simple pleasure of flying or new speed records, the W Foil will adapt to your desires.
The Sky Rider 7'8. will perfectly accompany you in all your windfoil sessions thanks to its volume of 120L, its construction made in France and its shape specially studied for foil.  It will allow you to take off very quickly and to have an optimal comfort in flight to take full advantage of its potential. With the Sky Rider, all your manoeuvres will become a pleasure of fluidity.  It is durable, fast, solid, but above all versatile. It can accompany you in wing foil and SUP foil. We offer packs to get you on the water immediately.
All our STAND UP PADDLE
Whatever your need, desire or dream, we have what you need. And, in all cases, we want to offer you exceptional inflatable SUPs, combining unique design, durable and high-performance premium construction, and most of all, the pleasure of sliding, sharing, adventure, relaxation or discovery.
The Alpha inflatable SUPs
Alpha's are cut out for Adventure, race and speed. Their construction will open up new horizons in terms of performance. We've selected the strongest, most durable and toughest materials on the market, which we've coupled with Fusion technology to make stand up paddles lighter. So you benefit from a solid and rigid construction with unparalleled sliding pleasure to take you further on your adventure. The Alpha are available in several sizes up to 14′ and in several colours, including the unique and refined Girly.
The Malibu inflatable SUPs
If the Malibu are Sroka's best-seller, it's no coincidence. The Malibus are there to offer you versatility and comfort, for all uses and for the whole family. Fusion technology makes them stable, the materials we use are strong, rigid and durable. We design them with shapes that are playful, fun and comfortable. The 10′ and 10'6 models are available in two colours, blue and orange. There is a model for people with disabilities to enjoy this sport, with more handles and seat straps. It is possible to choose the Wind Sup convertible into a kayak or windsurf. For those who wish to have a paddle with a unique look, there is the Girly. Whatever your desire, there is a Malibu to please you.
The SUP inflatables Easy
The Easy paddles are the perfect gateway to paddle practice, with no headache. These SUPs are both very easy to use and easy to set up. They are stable with an excellent compromise between comfort, speed and gliding pleasure. The best PVC and Dropstitch fabrics available on the market equip all our SUPs, and the Easy are no exception. We therefore offer models that do not sacrifice durability, resistance and rigidity for lightness. The Easy are perfect for you if you dream of plans without any hassle and always pleasant.
Waves and Ocean Walker SUP inflatables
The Waves has a shape designed to go surfing in your favourite spots. In addition, it benefits from our careful selection of exceptional materials to make it rigid, strong and light at the same time. No more problems to take it with you to new spots! The Waves will seduce you with its very pleasant surfing shape, extremely manoeuvrable and providing unique sensations. For days of flat calm, it is always possible to go for a ride with this model.
For its part, the Ocean Walker represents the ideal first purchase to discover stand up paddle. It is incredibly light, simple and pleasant to use. It is an excellent compromise between very good glide and comfortable stability.
Giant inflatable SUPs
If you want to share the joys of SUP with several people, we have the Duo, XL and XXL models for you. These models are fun, practical, and can carry from two to eight people. The Duo offers excellent tandem performance for rides to be enjoyed by two. The XL and XXL allow a whole group of friends or family to ride together. All these models and more details are available right here.
Accessories for our SUP
Around our range of inflatable stand up paddles, we offer you all the accessories you need to prepare your outings. Among these accessories, you will find our different ranges of paddles, leashes, fins, but also screws, bags or repair kits. Our accessories benefit from the same care and quality of construction as our stand up paddle. All these accessories and spare parts as well as their descriptions are available by following this link.
SROKA COMPANY DELIVERS IN :
Lettonia
Lituania
Luxembourg
Malta
Poland
Czech Republic
Romania
Slovakia
Slovenia
Sweden
Ukraine