Flying with your Wing Foil equipment requires a little organisation, but it is possible ! In this article, you will find all the precautions to take in order to travel with peace of mind. If you want to fly with your inflatable SUP, your Kite or your Surf, these tips will also be very useful !
1 - Choosing the right airline to flying with your wing foil
To flying with your wing foil, you will first have to choose your airline carefully. Indeed, the luggage policy varies enormously from one airline to another. In some cases, the price of luggage can be up to three times more expensive than the price of the ticket. The cost of excess baggage is therefore the first thing to consider when making your reservation. Sometimes, you should not hesitate to change airlines, even if it means paying a little more for the ticket but with less excess luggage. We also advise you to find out about the permitted baggage dimensions. Weight is not the only factor taken into account. Remember to pay particular attention to the restrictions on the length and width of luggage.
2 - Packing your wingfoil equipment properly
Before flying, you should have something to protect your wing foil kit. Choose a board bag that is large enough and strong enough to hold the equipment. For your foil, dismantle it and store it in its protective and transport bag. You can then slip it into your large board bag.
Don't hesitate to go one size bigger to be able to put your foil and your wing inside.
The wingfoil board should then be well padded to avoid damage on the plane, especially if you are carrying a rigid board. We advise you to wrap the deck, edges and rails of your foil board with protective foam. It is also important to secure the board to prevent it from moving around too much. Finally, distribute the weight as much as possible to avoid putting too much strain on one part of your bag and therefore damaging the seams there.
Sroka transport bags are perfectly designed to protect your foil and board and make transport easier.
3 - Flying with your Wing Foil: choose the inflatable
For flying, the inflatable wing foil board is the perfect solution. Unbreakable, foldable and compact during transport, the inflatable board offers only advantages.
Indeed, with the inflatable, no more problems of transport and storage ! The board fits in a backpack.
At Sroka we build all our inflatable boards with high quality PVC, the same as that used for professional RIBs. This ensures that our boards are as strong as they can be.
The rigidity of our inflatable wingfoil boards will also amaze you! Contrary to popular belief, well-built inflatable wingfoil boards are extremely rigid. For example, on our Sroka V1 and V2 inflatable boards, we have chosen to integrate a carbon plate on the hull to obtain an unequalled rigidity and maximum performance.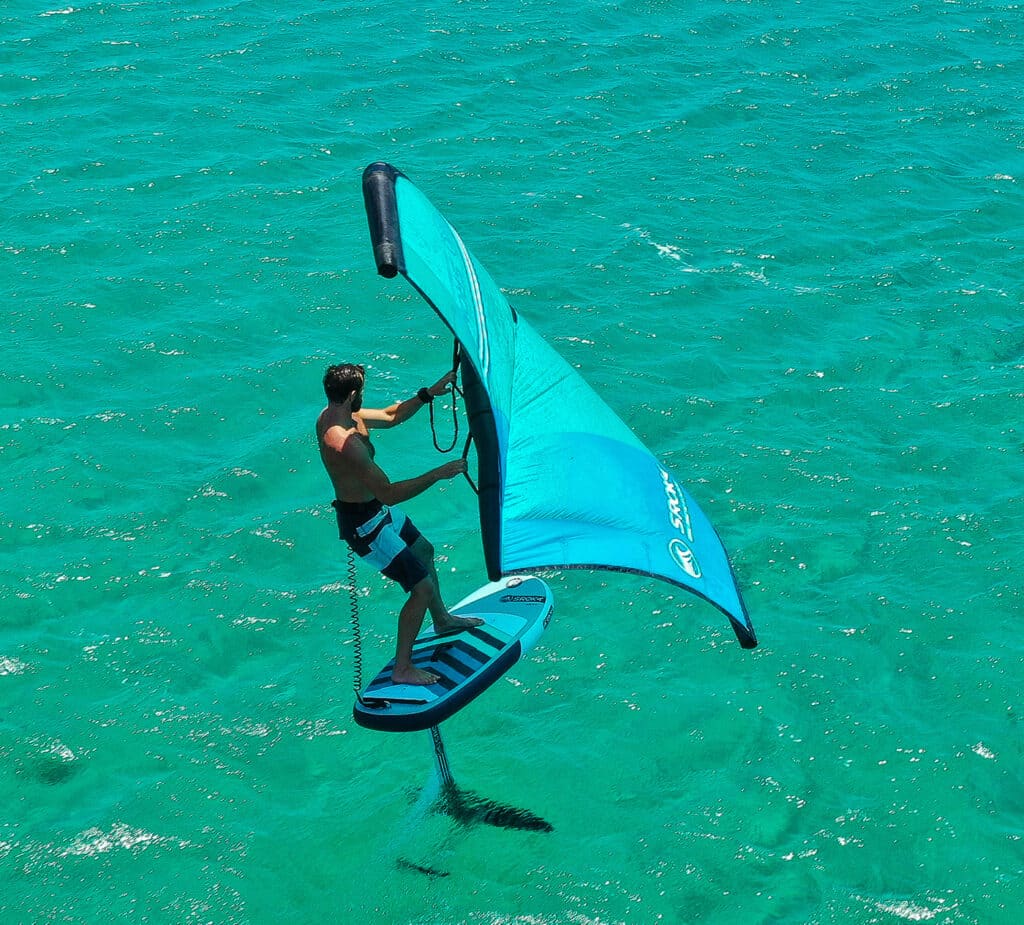 If you want to take your wingfoil equipment with you wherever you go, the inflatable is the obvious choice. Its high impact resistance and ease of use and transport make it a great ally. It is also a great piece of equipment for anyone who wants to start wingfoiling with ease.
Planche de wing foil gonflable V2 : la planche de voyage par excellence
The Sroka V2 inflatable offers superb performances and an incredibly precise ride thanks to the carbon plate and foot straps inserts. The feeling on the water is closer than ever to a hard board. The board also has a great recovery from hits thanks to its rocker and immediate take off.
The board is made of a reinforced PVC that is used on RIBs and offers unmatched mechanical strength and rigidity.
4 - Beware of oversized luggage
In general, airlines set a maximum weight of 23kg for hold luggage (with some airlines it is possible to go up to 32kg). In addition to this maximum weight, there are dimensions that must not be exceeded. Beyond this weight and size, your baggage will not be taken. It is therefore important to check the dimensions and weight of your luggage carefully, otherwise you may not be able to take it with you.
Take only what is strictly necessary if you do not want to pay too much. To do this, check the weather conditions before you leave and try to get information from the local clubs. In any case, you will have to check your oversized luggage at the counter. Most of the time, oversized baggage will be placed on a special conveyor belt. Try to locate this belt in advance to save time.
On landing, your baggage will also arrive on a different conveyor belt.
We advise you to buy your luggage in advance. This is cheaper than buying it at the airport when you check in. Normally it is advisable to arrive early to catch your flight. This is even more important if you want to fly with your wing foil. If possible, plan to arrive at least 2 hours in advance. This will give you more time to manage your equipment at the airport. Airports are even more crowded during the summer months, so travelling with your wingfoil can quickly become complicated. To make it through the airport with ease, make sure you have a good margin of time before your flight.
PS : Remember the straps if you want to attach your wingfoil equipment to the roof of a car when you arrive.
6 - What to do in case of damage to your wingfoil equipment?
To avoid any unpleasant surprises, it is advisable to check that nothing has been damaged directly after leaving the aircraft. If a piece of wing foil equipment is damaged during your flight, make a claim without delay at the airline counter. You will then be compensated in exchange for the purchase and repair invoice, if you can provide it. It is advisable to do this on the spot. In general, the time limit for making a claim is 7 days, but you should check this with your company. After this period, you will no longer be able to prove that the damage was caused by your flight. You may therefore have to pay for the necessary repairs yourself.
If you have any questions about this, or any other request, please do not hesitate to contact us !
Flying with your Wing Foil equipment requires a little organisation, but it is possible ! In this article, you will find all the precautions to
Read more "
Which inflatable paddle to choose according to the practice ? Increasingly popular with water sports enthusiasts, the inflatable paddle has many advantages. Light, strong and
Read more "
How do you attach your GoPro to an inflatable paddle board ? Are you a stand up paddle (SUP) enthusiast and want to capture your
Read more "
Join us on social networks !