With its many idyllic landscapes, Corsica is a dream destination. It is easy to understand why it is nicknamed the island of beauty. Indeed, it abounds in outdoor activities, from the seaside to the mountains, there is no lack of paradisiacal landscapes. It is also an island that is particularly popular for its many water sports spots. Corsica has some of the best Wing Foil and SUP spots on its coast. Surrounded by the Mediterranean Sea, the Wingfoil, paddle and kite spots are numerous.
Corsica : ideal conditions for Wing Foil and SUP
Another advantage of the island of beauty? Its Mediterranean climate. The summer is hot and dry and the winter is mild and humid. Ideal conditions to enjoy the best Wing Foil and SUP spots in Corsica. Between June and September temperatures vary between 21°C and 26°C. Spring and autumn remain mild with temperatures between 12°C and 18°C. As for the winter period, temperatures do not fall below 9°C on average. It is therefore the ideal climate for Wingfoil and SUP. On both sides of the island, the heat is pleasant and the wind conditions favourable for wing sessions.
As far as the sea is concerned, no need for a wetsuit! Thanks to water temperatures of around 25°C in summer (higher from May to November), it is ideal for paddling or wingfoiling in a swimming costume.
Corsica also benefits from ideal wind conditions. For wing surfing, many spots are well exposed and allow for interesting sessions. For paddle boarders, there are also more sheltered spots to enjoy the beauty of the landscape.
The advantage of the island of beauty is that, whatever the time of the year, you will find a place where the conditions are good to practice Stand Up Paddle, Wingfoil or Kitesurf.
1 - Les meilleurs spots de Wingfoil en Corse
BONIFACIO : La Mecque des sports de glisse en France ( Sud )
The Bonifacio area is widely known for its exceptional wind conditions, the beauty of its landscapes and its crystal clear lagoons where the wind blows in. Like all of southern Corsica, it benefits from a significant exposure to the prevailing winds. They make Bonifacio a magical area for wingfoil.
Indeed, the Bonifacio area is ideal for Wingfoil. We can count more than 190 days of wind, of force 4 or more, per year. It is one of the windiest places in Europe. The prevailing winds are from the West / South-West and East / North-East.
La Tonnara, located west of Bonifiacio, is a very famous kitesurfing spot. It is a real pleasure to sail there in Wingfoil. Indeed, the spot offers incredible wind conditions. Depending on the conditions, it can be perfect for beginners in wingfoil, or it can be a great place for the more experienced to have fun. Considered as one of the best Wing Foil spots in Corsica, La Tonnara gives access to the Gulf of Venegna. A great spot in deep water which benefits from regular winds.
15 minutes north-east of Bonifacio is the beach of Balistra, a magnificent wild spot. The water is flat but the west wind can sometimes be strong and offshore. In these conditions, this wingfoil spot is recommended for experienced wingfoilers. However, there is a very shallow pond just behind the beach, which allows beginners to wingfoil safely.
The spot in the Gulf of Figari is a large, safe and easily accessible bay. It is a perfect spot for beginners and intermediates in wing foil. It is also suitable for advanced riders who can leave the bay to benefit from a stronger wind and more space.
Finally, in the vicinity of Bonifacio, there is the famous lagoon of Piantarella. With its white sandy beach and shallow waters it is a very famous wingfoil spot. The westerly wind that blows into the mouths of Bonifacio creates superb sailing conditions for Wing Foil. Be careful though, in the summer season the lagoon quickly becomes overcrowded.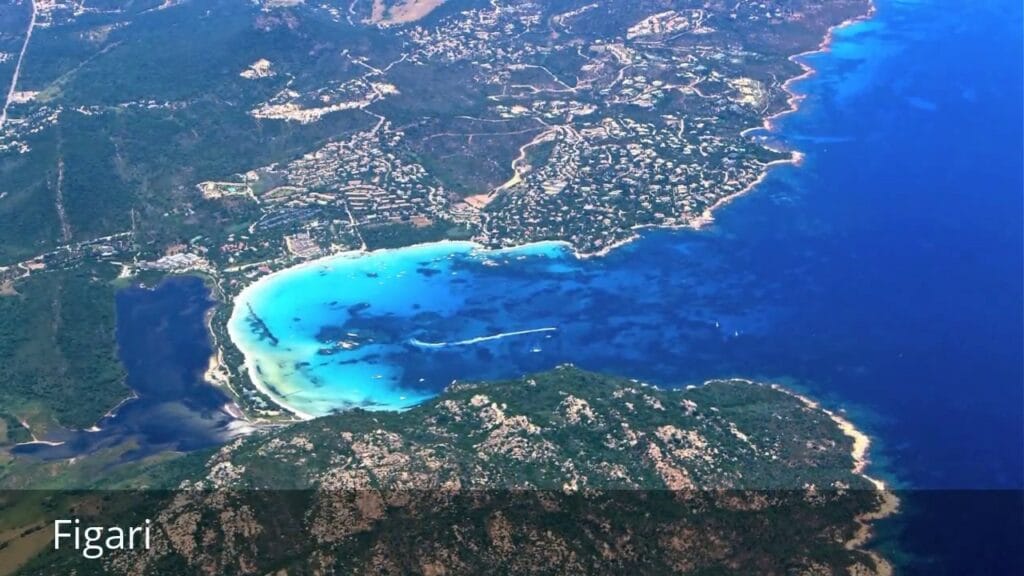 PORTO-VECCHIO : La plage de Santa Giulia ( Sud-Est )
Located in the east of Corsica, a little higher than Bonifacio, the beach of Santa Giulia, which borders Porto-Vecchio, is one of the best spots for Wing Foil and SUP in Corsica. The beach is characterised by its translucent, flat and very shallow water. With a north-east wind most of the time, this beach will be a paradise for wingfoil beginners. However, as the beach fills up well in the summer months, it can quickly become difficult to find space on the beach to set up your equipment.
That's why the best option is to go through the Santa Giulia Nautical Club. The sailing club offers courses, training and rental of Wingfoil, Paddle, Windsurf and kayak at affordable prices. There is something for all tastes and all ages! Their team of enthusiasts and professionals are there to help you make the most of these water sports.
There are even Giant SUPs to take the whole family (or friends) for a ride in this little piece of paradise !
Photo credit: Santa Giulia Nautical club
AJACCIO : Ricanto et Capo di feno ( Sud-Ouest )
The
Ricanto
beach is a long white sandy beach located in the bay of Ajaccio. The wind conditions are ideal and it is the starting point for beautiful wing sessions in the whole gulf. Perfect for a family afternoon, the beach is easy to access and also has a supervised swimming area. This is a real plus when you want to go
Wingfoiling
in complete peace of mind.
For those who want to wingfoil in the waves, the beach of
Capo di Feno
offers great sensations when the conditions are right. Indeed, when the west wind blows, the beach becomes a great surf spot. These are perfect conditions for great Wing Foil sessions in the waves, or even Surf Foil for the more experienced. Moreover, when the conditions are calm, the Corsican beach of Capo Di Feno is an excellent spot for
Paddleboarding
. Its magnificent landscapes promise superb rides, whether on the water or on land.

The
gulf of Calvi
is perfect for wingfoilers who like to freestyle. The winds are sometimes strong and depending on the conditions, the beach will delight
wingfoil
wave enthusiasts. Like all the beaches of Corsica, in light wind conditions, the turquoise water of Calvi beach will also delight those who wish to paddle. Its little advantage ? The nice view on the city of Calvi
For those who want to discover
the east of Corsica
, you can go
Wingfoiling
on the long beach of Ghisonaccia. The beach extends over several kilometres and is divided into many beaches. Depending on the beach, the characteristics are different: supervised bathing, beach equipment and activities, showers, animals allowed, restaurants… All you have to do is choose what interests you !
Quel équipement pour le Wing Foil en Corse ?
In Corsica as elsewhere, it is necessary to be well equipped to practice
Wing Foil
. This is why, at SROKA, we have
products adapted to each of you
. And this is to enable you to make the most of the best Wing Foil spots in Corsica and everywhere else. We have designed
wingfoil packs
so that you have everything you need to sail without delay. They contain: a foil board, a foil and a wing. As we are first and foremost a
team of passionate people
, it is fundamental for us to offer you
the best equipment
for your sessions. This is why we make it a point of honour to ensure that our products are
high performance and quality, while remaining accessible in terms of price.
To practice wingfoil in Corsica, we advise you to choose an
inflatable wingfoil pack
. The Sroka Air inflatable board will be very easy to transport, it is ideal for a plane trip. As far as the size of the wing is concerned, a 5m wing will be quite suitable. In case of strong winds you can reduce the surface of your wing by going for a 4m. As for the foil, it is up to you to choose according to your level and your desires! If you want to
know the equipment perfectly adapted to your needs
, we advise you our article
"choose your wing foil pack"
.
2 - Les meilleurs spots de Stand Up Paddle en Corse
Corsica and its many paradisiacal landscapes are full of superb
SUP
spots, each one as beautiful as the next. However, we have chosen two paddle spots that stand out from the rest: Palombaggia beach and the Piantarella lagoon.
The beach of Palombaggia
Located in the south-east of Corsica, not far from Porto-Vecchio,
Palombaggia beach
is one of the best
SUP
spots in Corsica. It was voted most beautiful beach in France in 2019 and it is easy to see why! Its turquoise and calm waters will offer you a total change of scenery. With its idyllic landscape, this paddle spot is a little paradise on earth.
The Piantarella lagoon
Near Bonifacio, the Piantarella lagoon promises a breathtaking SUP session. The conditions are unique, the water is translucent, the sand white and the landscape is splendid. With your paddle you can discover the Lavezzi islands as well as the caves and cliffs under Pertusato, enough to give you a great view !
Retrouvez tous nos conseils pour :
How do you attach your GoPro to an inflatable paddle board ? Are you a stand up paddle (SUP) enthusiast and want to capture your
Read more »
Which inflatable paddle to choose according to the practice ? Increasingly popular with water sports enthusiasts, the inflatable paddle has many advantages. Light, strong and
Read more »
How to windsurf with an inflatable paddle ? The Windsurf and the inflatable paddling are both popular water sports for those who enjoy the thrill
Read more »
Venez nous rejoindre sur les réseaux sociaux !