The best wingfoil spots in Finistère
Finistère, this department located in the very west of Brittany, is full of great
WingFoil
spots but also
Surf foil
,
SUP foil
and
Kite foil
spots. Many of the spots in Finistère are known for their great surfing conditions, but what about Wingfoil ? We have found for you the 5 best wing foil spots in Finistère.
The best equipment for Wingfoil in Finistère
At SROKA we understand that the quality of the product is the most important thing. This is why each of our products is the subject of particular attention, both in the choice of materials and in the construction techniques used. Our products are studied down to the smallest detail to enable you to foil on solid, high-performance and evolving equipment. If you are a beginner and you don't know where to start, don't hesitate to
contact us
or to find our advice to
choose your wingfoil pack.
Goulien : the most western wingfoil spot in Finistère
Located at the end of the world, in the commune of Crozon, the beach of Goulien is a spot of
wing foil
famous. Easy to access, it is one of the largest beaches in Crozon. The beach of Goulien benefits from North-West and South-West winds. On days when the wind is more southerly, you can go closer to Kersiguénou beach or Kerloc'h beach. This way you can benefit from more stable wind conditions. On days when the conditions are right, the waves get bigger and the beach becomes a great surfing and
surf foiling
spot. The waves can be big but it's still a relatively easy and accessible spot, even in big conditions. Beware though, in the summer months you will have to share the spot with the many bathers who come to enjoy it. This is not a problem for the wing foil as the bathers stay close to the shore.
La Laïta, the wingfoil spot on the edge of South Finistère
Located on the border between the south Finistère and Morbihan, the Laïta river is a wingfoil spot with many advantages. For flatlanders, it is possible to wingfoil in the Laïta basin just behind. If you prefer waves, the beach of Guidel (in Morbihan) will make you happy. Finally, for those in search of more swell, just go a little further offshore. To access this spot you can leave from Le Pouldu on the car park of the boulevard de la Laïta, or you can leave from Guidel-Plage. It is possible to foil from all directions. However, to avoid irregular winds, it is best to go when the wind is from the south-west. Be careful though, in case of strong coefficients the currents can be quite strong. Finally, we advise you to go when the tide is high or almost high. Indeed, at low and half-tide, there is not enough bottom to foil and the currents are rather numerous and strong.
Le Dossen and les 3 Moutons : the two best wingfoil spots in North Finistère
Described as one of the best wave spots in North Finistère, Le Dossen in Santec is a great wingfoil spot for anyone looking for a good feeling. The wind is mostly north-west or south-west. This white sandy beach welcomes waves up to 4 meters (off the spot) on the best days. During the summer months the beach is divided into several zones which allow swimmers, foilers and kitesurfers to enjoy their activity in complete peace.
The 3 Moutons spot in Tréompan easily belongs in the top 5 of the best wingfoil spots in Finistère. The spot has become popular thanks to its small waves which make it a perfect spot for wingfoil beginners. With a north-westerly wind, it is a spot that combines all the conditions to fully enjoy the sensations of foiling. Good to know: the sea goes down a lot at low tide. Don't be afraid to walk with your equipment if you want to get to the water before it rises.
Wingfoil in Finistère : The bay of Brest
The harbour of Brest is an endless spot for
wingfoil
in Finistère. You won't run out of space! It's a great spot for wingfoil for beginners as well as for the more experienced in case of bigger wind conditions. The best thing is to foil in South, South-West wind. It is of course possible to wingfoil in other directions but the wind will be more irregular. There are many access points. You can for example start from the
Moulin Blanc beach
in Brest. It is a large white sandy beach with an easy access car park on the left. It should be noted that in summer the car park fills up very quickly and swimming areas are set up.
The slipway to Océanopolis
is another popular access point for wing foilers. The launch is convenient and it will be easy to find a place to park next to it. Finally, for those who are not afraid of rocks, the
beach of Kernisi
in Plougastel
is an excellent starting point for foiling in the whole of the Brest bay. It is the preferred starting point of the Sroka team. It allows you to start easily in all directions. However, we do not recommend it when the wind is from the north as it will be more difficult to leave the beach.
BONUS: Penfoul, the ideal spot for Surf Foil in North Finistère
The beach of Penfoul in Landunvez will make the happiness of the lovers of surf foil. Already renowned for being a great surf spot, Penfoul has become one of the favourite spots for foil surfers over the years. Benefiting from a north-west swell, Penfoul is suitable for beginners in foil surfing, however the beach also offers great waves for the more experienced when the conditions are right.
The perfect pack to have fun surfing foil
This surf foil package offers you the
highest level of performance possible
. It consists of the Fast Flyer 4'6 and an S-Foil 1190 High Aspect. The foil is available in Speed or Lift version (
1190 Speed or Lift ?
). The Fast Flyer 4'6 has been designed to start very early, even in softer waves. It is equipped with a double concave and sharpened rails that give it more paddling power. To make the board even more scalable and versatile, we added footstrap inserts. This way you can surf more aerially or use your surf foil pack as a
wing foil
. Made in Brittany, this board has a full sandwich fibreglass construction. This
lightweight
and
very strong
construction makes the Fast Flyer a
very durable board
. Finally, we wanted to make a pack that would allow everyone to reach their best performance. That's why you can
customize your pack
by choosing your fin, mast and fuselage length.
If you have any questions about this, or any other request, please don't hesitate to contact us !
Tutorials
Construire un foil carbone n'est pas une mince affaire.  Il existe différentes manières et techniques pour fabriquer un foil carbone. Cependant construire un foil carbone
Read more »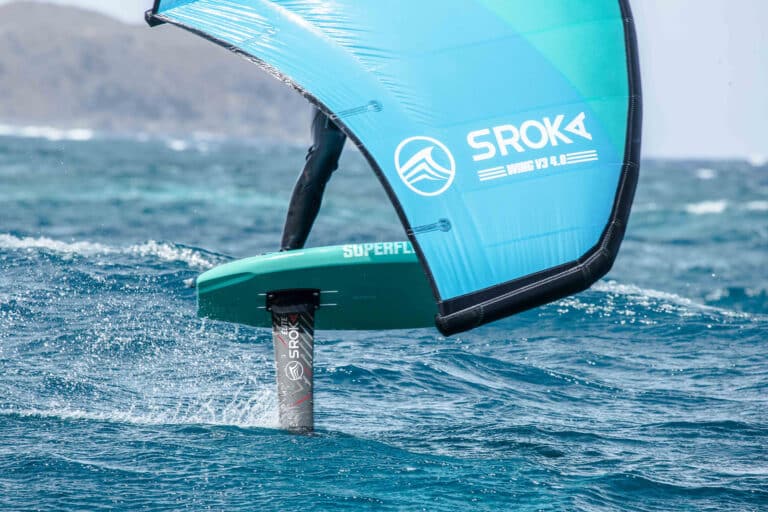 Tests & Reviews
The carbon mast is an essential element of a carbon foil, which influences the stability, control, maneuverability and speed of your wingfoil. It's different characteristics
Read more »
Tutorials
Stand-up paddling is a water sport in which you stand up on a board using a paddle. It can be practised on different types of
Read more »
Join us on social networks !